Huh?
EV105 is the rule about "Loss of Qualifications"
Maybe for you, but in Canada its the modified division for us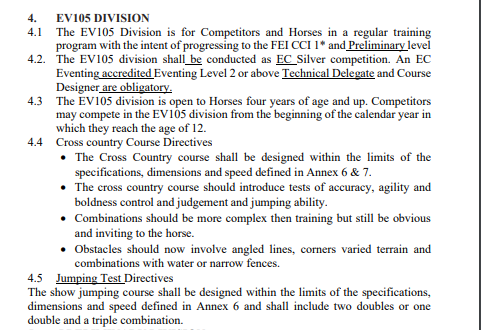 Just EC mixing it up for fun for us

Do they have this level in the UK I wonder?
Yes, that's what I said - Training-sized fences (ex. 3'3") in Prelim-style technicality, or Prelim-sized fences (ex. 3'5" ish) as standalone fences.
I didn't mean questions that were on the Training or Prelim would also be flagged for Modified as well, I meant surplus fences that (based on their dimensions) could have been included in those courses would be arranged into a Modified course using that approximate guidance.
[quote="Marigold, post:24, topic:764687, full:true"]
You are missing my point.
The "surplus fences that could have been included" in Training, that are a full 3'3", are almost certainly "straightforward".
The "surplus fences that could have been included" in Prelim, that are 3'5" or under are almost certainly "technical".
This results in a very bad course.
I think we might be misunderstanding each other. For example, I am thinking of a surplus Training-sized coop (that might have been originally designed as a standalone Training fence) could now be placed as the A element of a combination at the top of a hill on the Modified course. A large Prelim-sized brush that might have originally been part of a turning question on a Prelim could be a standalone fence for Modified, etc etc. I have seen venues do this and the Modified course that resulted was absolutely appropriate and to the level.
This requires additional course design because the Modified is a different track to the Training and Prelim, but allows venues to re-use fences they already have built (if available) in a new way appropriate to the level.
I'm really enjoying the XC Courses FB group. People post the photos of their XC course.
I am seeing a lot of Modified courses that have a mixture of exactly what Marigold is describing. The comments on the posts are overwhelmingly positive.
Follow my page for Ontario too!