Anybody know where he ended up - or any of the other Wap stallions?
He stands in Florida at the same farm that owns Waps Infinity. You can find information on Facebook at Waps South. A 2015 colt by Wap Spot o/o Waps Finesse won the 2015 colt class, Champion Foal, Reserved Champion Young Horse and Rreserve Grand Champion of the show this week at a dressage show in North Carolina. You can find information at Delehanty Appaloosa Sport Horses on FB.
Wap Spot is still owned by Jerry Hood and for sale.
Waps Millennium passed away from cancer last year.
Waps Rolls Royce stands at Davey Farm Sport Horses or message Meggs here at COTH. She has several nice prospects by Waps Rolls Royce o/o a daughter of Wap Spot for sale.
Waps Applause is here with me. He is 22 this year and spends his time making sure his girls are all safe and accounted for.
Do you have contact info for those standing Wap Spot? And is Waps Applause still standing at stud? I have friends wanting to breed to a good Wap stallion.
The best way that I know would be to contact Waps South about Wap Spot through Facebook.
Waps Applause has a Facebook page with breeding and my contact information. I am offering shipped semen for Bob.
Thanks a bunch for the info!
2005 son of Wap Spot o/o Waps Chantress by Waps Reflection was Reserve Grand Champion Stallion at Yankee Color Classic ApHC Show today in Massachusetts.
He is available for stud also.
I actually own one of babies of waps millennium! My boy Ace is the son of waps millennium and grandson of waps spot 2. Unfortunately when I got him he was already gelded. I'm looking into to see if he was bred before.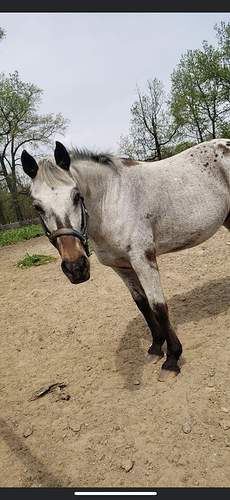 Lauraace, I think I might know a little history of your horse. If he is the one I am thinking of, he would have been born in PA around 2010 or 2011 (plus or minus a years or two).
It has been ages since I have been on the COTH Forums. But, in my notifications I have posts from 3 different people. When I click on an of them it brings me to this thread. If anyone is wondering about Wap Spot, he passed about 6 or 7 years ago. As far as I know, there is no frozen semen available.