Last night was some wild weather: storm with 70mph wind gusts, rain so heavy that it looked more like ocean swells than rain, power out, the whole 9 yards. Woke up to roosters crowing through the open windows, hangry cats, & (inexplicably) a dazed bumble bee on the kitchen windowsill. Fed cats, let chickens out, then circled back to attempt to revive the bee with sugar water. Then it was back to the chicken yard to feed & straighten up. Dumped the collected rainwater out of a feed bowl. A mouse shot out from underneath. Before I could register this event, one of the hens swooped in & devoured said mouse. Decided this was my signal from the universe to go back inside & make coffee.
All was quiet for 15 minutes. Then heard tapping on the kitchen door. Opened it to find…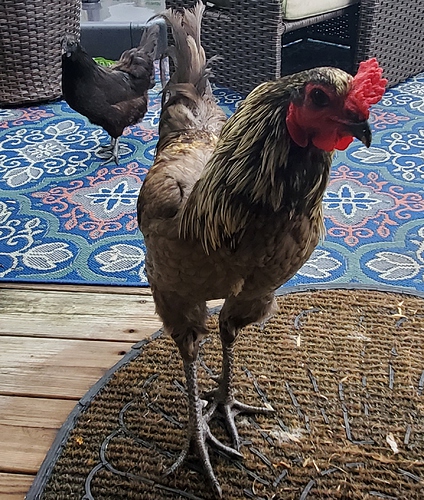 …Larry "Not the Cable Guy" Bird on the doormat. It's hard to tell in the pic, but Larry & his brother Louis are basically the rooster from the Rex Goliath wine label. Fortunately, they're as chill as they are gigantic. They also don't act much like chickens. They answer to their names, wake up to sweep the perimeter if they hear a noise at night, & love sidling up to you for attention if you're crouched down, their razor sharp beaks inches from your eyes. So, it's a tad unnerving, but hardly surprising they would figure out how to knock on the door.
Larry: [Proceeding to try to walk around me thru the door] HI, mom! I'm checking for those pesky chickens you said were making a mess of the deck. Can I come in?
Me: Uh, I'm not sure how I feel about that, Larry.
Larry: Can I have a latte? Got up extra early cause of the weather!
Me: Yes. So I heard through the open window mere yards away. You and Louis. And Pugsley and Gomez. And all the baby cockrels, too.
Larry: Latte?
Me: I really don't think caffeine is good for you, Larry.
Larry: Okaaaaay. We'll just eat the cat. Uh, I mean the cat food! The cat food you put out for the feral cat. Yeah. That's what I meant! We wouldn't eat a CAT! I mean, that's ridiculous! [Laughs nervously]
Me: Larry, I'm shutting the door now. If you get off the deck, I will cook y'all the ground beef that thawed while the power was out. Leave that cat alone. And tell Lady Jane Grey I'm both awed & slightly creeped out by her mousing ability. But take her off the deck, too. Away from the cat. Ok?
Larry: Fiiiiine.
Seriously, though. Anyone else's animals acting oddly this morning? I swear it's the storm plus the full moon coming!