I have a tack room full of bridles but I can unequivocally say that both my fairly sensitive horses show dramatic difference in comfort and performance with the "right" bridle. Current competition horse really prefers the half circle nosebands (e.g. PS of Sweden High Jump), but the version with metal in it (to help it keep the shape) is illegal for regular dressage (but legal for eventing dressage) so he jumps in that one. However, he is also pretty happy with the Collegiate Comfitech version that doesn't have metal in it and is legal for all forms of dressage. Note that this one is clearly preferred over the Micklem, a figure 8 noseband, multiple different versions of cavesson plus flash, and a plain cavesson. He's not particularly fussed about the other parts of the bridle, but I think he marginally prefers narrower crown pieces.
My retired competition horse had huge ears and was very particular about anatomical headpieces with big cutouts for her ears. She was a bit more flexible about nosebands but hated flashes (or anything around her mouth). It's hard to find a a nice snaffle bridle with just a plain cavesson with a crown piece she liked, but PS of Sweden had the Paladin that really was good for her.
I just bought a bridle from EvoEquine that is a knock-off of the PS of Sweden High Jump. I'd been looking for an anatomic bridle for my mare to replace the Micklem that she's been wearing for a couple of years.
I found, when I ordered several other bridles labeled ergonomic or anatomic that they didn't provide much adjustability. So, for example, I ordered one of the Kieffer anatomical bridles, and if I adjusted the cheek pieces so that the nose piece actually crossed her face at the right spot, the nose band piece just didn't fit properly (the straps seemed too small even in the Ex-Full size). I also wasn't super impressed with the leather.
The bridle I just got is very adjustable and you can send the company an extensive list of measurements and they'll swap in pieces of different sizes, if necessary. The leather is beautiful–very thick and supple.
Definitely worth checking out if you're looking for a bridle.
My horse has an oddly shaped head so I have the same problem, especially when it comes to nosebands. I really like the adjustability of the High Jump (& similar) design for the hard to fit horse. I love the mix and match/custom pieces offered by the EvoEquine bridles but I was pleasantly surprised at the quality of the Collegiate Comfitech given the reasonable price.
What brand/company is this? I like it!
It's a Kavalkade Grey Dressage Bridle. https://www.kavalkade.de/en/trense-grey.html I liked it because of the gray inside padding and especially that the flash is completely removable! (i'm psychologically allergic to flash nosebands) I'm using it on my 4yr old standardbred i'm just starting and it's fine on him, (but i need to try a different bit, he's a little tooooo chompy even for a starting guy)
In the picture the bridle looks to be sitting on the horses ears. I thought a cutback would sit further back off the ears.
it doesn't really cut back as much as it has a sort of pollpiece, a thicker sort of skullcap that supposedly spreads the pressure over a larger bony area. On the horse i'm using it on, it doesn't dig right in behind his ears like this. If i can find my cellphone, which i think dropped out of my pocket a few days ago, i'll get a pic and show you.
Did you get it yet? What's your take on leather quality?
i've had it for months. Haven't used it yet though. I think the leather is thick. Other than that, it's hard to tell…haven't worked it over with any products, so suppliness=?
OOPS…thought we were talking about a different one (a Harwich…different ergonomic bridle).
This Kavalkade is fine. I havent oiled it because i think i'm going to paint it gray. I've ordered a very pretty bling browband to switch out this dinky one it came with. Leather quality is average.
wrote you my plan for all four bridles on that other thread just now…
'it's complicated' lol
My sensitive Highland pony really likes his Medieval special. No more head tossing. I think the funky browband/noseband cross-thing keeps pressure off parts of his face, plus, it looks awesome. It's probably not legal for dressage, but he thinks he's going to be murdered in the arena, so we need to sort that out before BD tack rules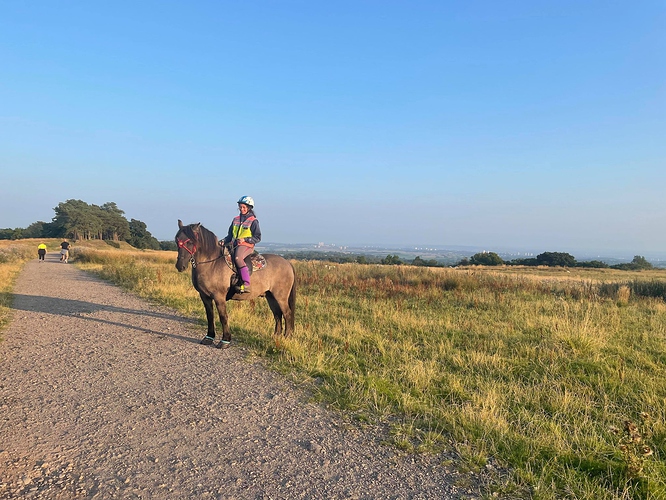 are remotely on the radar. At least he's a cute project.
HKM makes a great quality and very affordable version, I love mine!
Do you mind me asking what kind of reins the bridle comes with? Are they the rubber ones similar to those on the Micklem bridle?
Yes, slightly thick but very soft rubber reins
I have a couple of the Acavallo bridles as well as the Acavallo calfskin mono flap dressage girth. They are really nice, and still look new after almost a year. Very soft padded leather with latex padding, even the fussy horses are comfortable in them and the noseband attachment makes them fit a variety of horses well. I also have a Henry James and an Eponia anatomical bridle, and haven't been quite as thrilled with them. The Henry James crown piece is so wide that it rubs a bit and looks bulky, and the Eponia is nice but the leather started to fade within the first year. I also have a Passier Fortuna with the elastic inserts in the cheekpieces that is really nice and has worn beautifully for the past 2 years.