Hey looking for advice or tips
My neighbor has horses that I've helped with since 2016. Recently two had little fillies. One is extremely friendly and loves people, both mares are friendly.
But Mattie is 2 weeks old and scared of people. There is another horse there who is now 7 named Blondie that was scared of people in 2016-2017 and over time I got her to trust me and now she's great.
Foals are different then grown horses though and he wants my help which I'm happy too. Just don't want to do anything wrong.
I've been spending time just grooming mom and feeding her ect with the foal watching and sitting outside the fence with my back turned and the filly has come up twice, she let me touch her yesterday after an hour of walking up to mom and walking away and repeat.
Any other tips?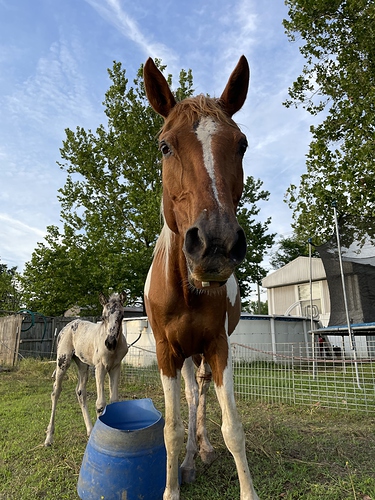 Little Mattie and Star