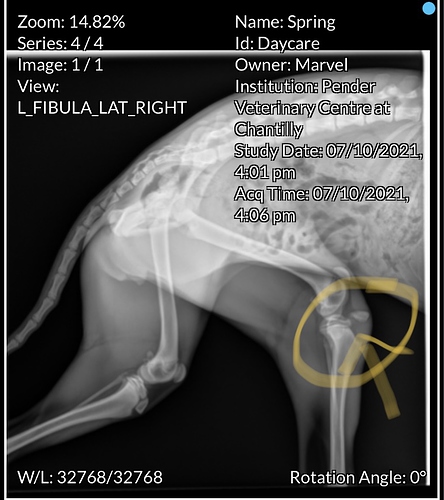 NOT my Whippet puppy, this one belongs to a neighbor and is 4 1/2 months old (this puppy and my 9 month old Whippet do playdates and pack walks - they love each other! Obviously this will have to be suspended for the foreseeable future
) She recently finished puppy classes with me and they were planning to do my Intermediate class at the end of October, but that will have to wait too.
This puppy (Spring) was in a doggy day care situation at a veterinary facility; she plays (supervised) with other puppies in a play room for a couple of hours, then is put in a room by herself for awhile - which is where it happened.
The "resting room" has walls halfway up then windows above, and one dog cot with a blanket. Apparently they put Spring in there, then noticed she was limping about 10 minutes later; the owner was unable to get any more information out of them about what might have happened - though there are cameras in the rooms that stream to the main computer, they don't record or playback - and no one was watching.
The owner's response to this was Hmmm.

She has contacted her insurance company (puppy is insured), and the facility's "operations manager" is supposed to call about the medical bills - so apparently their insurance company will be involved as well.
Spring is in surgery as we speak. This happened last Thursday, and she has been resting and on pain meds and anti-inflammatories in the interim - there was apparently a lot of bruising on her inner thigh and she has been in a good bit of pain. Though she will obviously heal (and this is not that uncommon in puppies), it is clearly traumatizing for everyone involved - including the owner's 11 year old daughter. The owner is racking her brain trying to figure out what happened - how much of an impact would it take to cause this injury? Would twisting the knee do it? A fall? Whippet puppies are CRAZY athletic, they run, jump, leap and twist, turn/spin on a dime, explode from a standstill and "levitate" onto furniture - so it's actually surprising that this doesn't happen more often! (and I've seen Spring and my puppy Te'a contort themselves and wrestle and chase and race and jump over each other and body check and knock each other over and playfight with such vigor that you think SURELY they will injure themselves!, but they seem to be made of rubber, and always come back for more.)
I am wondering (as is the owner) whether they picked Spring up, she tried to wriggle free, and got dropped - twisting the leg somehow? The room is about the size of a box stall, so it's not like she could get up a big head of steam, and it's hard to imagine that she got the leg caught on the simple, lightweight cot. Thoughts on this from those of you who have had similar experiences would be greatly appreciated!
There is a saying about Whippet puppies: "it's like having a live squirrel in the house" - very true IME!, so recovery (and forced rest) will be extra challenging. Brain games will help, but it will still be rough on puppy and owner.
TIA for any input!