Hello!
I always get a bit nervous here posting for advice, but I think I've got my tough skin on so here it goes.
I love my mare. Absolutely ADORE her. She is athletic, powerful and smart. She loves jumping and is just a beast on cross country. She is brave and bold but also safe - she isn't going to blindly throw herself over a jump if she doesn't feel like she's able to, which I appreciate. We're never going to win the dressage (tension and reactivity - it's a work in progress), but I'm okay with that. For a couple of years now I've thought about breeding her but have never seriously considered it until now. I'm just now starting to think about it more and think about stallion options. Warm blood registries truly baffle me …… it's my understanding I don't have to get my mare "approved", it's just the goal that would get approved by the registry and then be considered that breed? In any event, "breed", doesn't really matter to me, I'm just wondering what would pair best with my mare. I'm a relatively capable AA, but nonetheless still an AA so something with a good brain is important to me. I'm not looking for a horse that needs to get to a 5*, but if I could get myself to a 2*, boy would that be a dream come true. I'd also love to have a shot at being competitively placed after dressage (of course, this also depends on me as the rider), but a good brain and a good jumper is much more important to me.
With that being said, here's a couple of confirmation photos of my mare as well as her pedigree. Honestly the biggest block for me right now is that I don't want to lose out on time spent riding and competing her. I know there's other options available (ie: a surrogate), but at some point $$ is going to become a factor.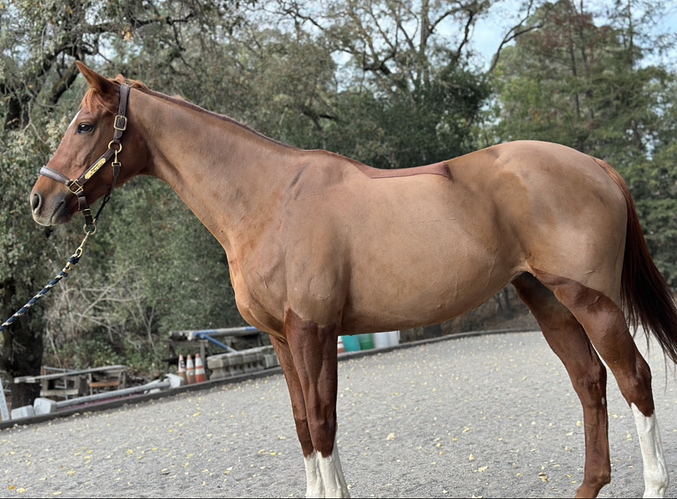 Here is a link to her pedigree. JC name is Class Divine if for some reason the link doesn't work. I'm posting all this from my phone so

link and photos share appropriately.
Thank you in advance to anyone who takes the time to give me feedback, it is very much appreciated!