I have an approx 12 x 12 ft corner of the shed on my dad's property where I keep the horses, that is my designated tack room (feed has its own separate shed). The current layout has served me well enough for the last 8 years but with two horses, it's no longer sufficient for all my gear.
One "wall" is shelving racks that separate my area. I intend on replacing the shelving with one unit that is half drawers, and two shelves above, and one shelving unit. The wall to the right, I framed up and lined with plywood for saddle and bridle racks. I'm running out of room here, so I plan on making it entirely bridle hooks.
The next wall is an exterior wall with a window, so I'm a bit limited with what I can do there. The previous owners of the property lived in the shed for a while, so there is a convenient hookup point for a washer on this wall, so whilst I might move it along a little, the washer needs to stay.
Then in the corner, is the old shower cubicle…I've toyed with the idea of turning it into a cupboard for YEARS, have never got around to it and really it's big, awkwardly sized and taking up alot of space, so I think we've decided we'll get rid of it, and throw up a wall there instead. I'm thinking of possibly putting the saddle racks here, and adding more.
I also need some sort of system for hanging saddle pads so they can air out (preferably wall attached) and something for at least the cotton/fly mesh rugs as I interchange those frequently and storing in boxes is a nuisance.
I've attached a couple pics of the current bridle/saddle wall, and the one with the window, the current layout and proposed new one…and since I know most horse people just love to design dream tack rooms…fire away with ideas

Current layout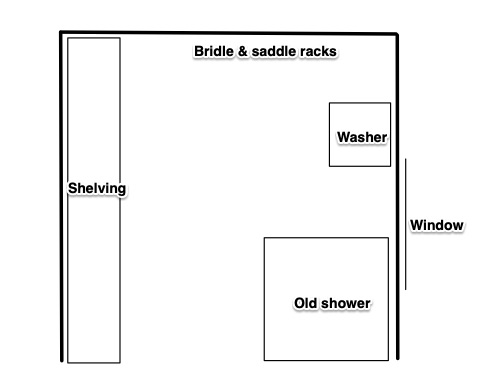 New layout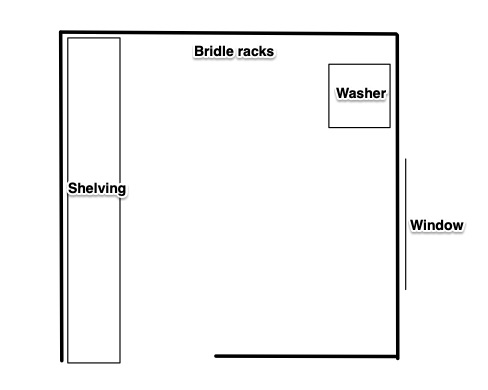 Window wall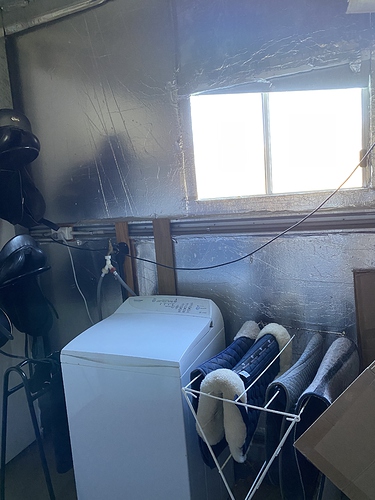 Bridle wall