Just wanted to share with some equally crazy horse people - my mare was cleared to ride today!

Almost four months ago to the day (2/20), the Saturday after the Texas icepocalypse, I found my five year old down in the field after breakfast. She had been fine an hour before, wearing a blanket, but then she was neither fine nor clothed.
I immediately thought the worst, that she had broken a leg or met some tragic fate - but when I ran out to her, she immediately jumped up - all legs fine and no blood. But then I saw it - her flank filleted open from stifle to hip.
We immediately rushed to the closest hospital, where the vets were able to palpate into her abdomen elbow deep. Her peritoneum was torn internally. There weren't many options aside from "wait and see". If her intestines didn't fall out of her body, she would likely survive. If they did, there was no chance to save her.
She spent close to three weeks in ICU, on a tie line, prevented from being able to lay down. We stitched the outside of her flank to try to prevent a complete disaster in the event that her abdominal cavity failed. A week in the stitches ripped out. I took the following photo three days in, the day I really felt like she was ready to throw in the towel mentally. I've never seen a horse so depressed and checked out.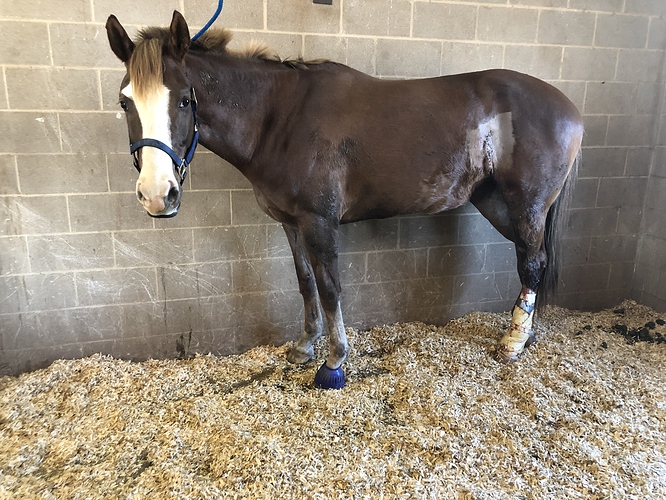 She also chipped her pastern in the original accident. It was a secondary concern, to evaluate surgical options once we knew she would even survive.
As of today, we went back to the vet to do our pastern follow up. The chip has healed incredibly well, my mare is sound, and she was given the green light to return to work and we'd address any arthritis that may appear in the joint when we come to that bridge.
I am elated. Photo from today.