This morning I'm seeing posts from FB friends who received these medals certificates from USDF: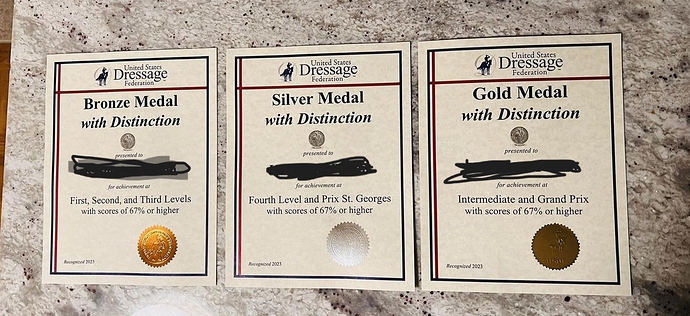 They are well deserved, no question.
However, I have trouble reconciling that a score of 67% merits distinction (and I definitely think that it should), yet 70% means, on average, only "fairly good." I know that many of the individual scores that make up a test score of 67% are higher than 7. I also know that at the same time that would mean that many are lower, as well.
Again, I have no beef with what USDF considers distinction; I have a beef with 67%, on average, essentially being defined as less than "fairly good." I don't know too many people who are disappointed to see a 7 on a test. Is it really only "fairly good?"
I would like USEF to take a hard look at the meanings of individual scores and come up with more meaningful, um, meanings.