Hopefully ekat will see this and take pity on non-savvy people like me.
I wish I knew how to show the links, but ekat has my blessings if she wants to start a new thread so her post will be at the top.
It's odd that it says no oral argument is requested, when the line requesting oral argument was definitely checked in the document.
@ekat ?

I wonder if the second one means that there will actually be a decision on 3/31, or not before 3/31. It seems like they are pretty fast and loose with the dates on these things.
It seems the judges only have these motion hearings every other Friday, so when a motion is presented that needs a hearing, it gets slated onto the next available date. That is the date it will be heard/read, but depending on the judge, their workload, and the complications of the motion, it may take weeks for an actual decision.
Translation - I haven't done my homework, so I demand you let me see and copy yours!
Worked. Thank you.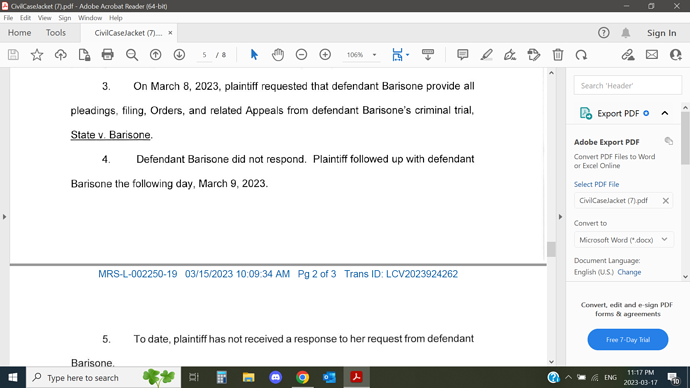 I find it interesting the the plaintiff requested information on March 8th, then followed up on March 9th and by March 15th wrote asking for an order to compel discovery.
This for the party that wants to limit their discovery.
Ironic eh?
When lawyers write "plaintiff requested" do they actually mean Lauren or do they mean the plantiff's lawyers?
I wonder why they would need the related appeals from the criminal trial for the civil suit.
Well, they did use "her request" following "plaintiff" so it would appear that means Lauren. I've yet to meet a woman with the first name of Gregg - not impossible, of course.
Plaintiff's deposition is scheduled for April 13, 2023
Yes, amazing that they want instantaneous action.
How long have JK/KK been ignoring their subpoenas by now? Is it eight months by this time?
Exactly – why in the world does MB have to provide all the court documents which are readily available from the court's websites?
Especially since there was a weekend between – so they waited 4 days.
Lauren's deposition is scheduled for the 13th of April and she wants to prepare convincing lies…err…responses to their questions.
Ah, when you can no longer dazzle anyone with bull s**t, so you must try to obfuscate the situation any way possible!
So either 1) Nagel passed on no paperwork to GAS, 2) GAS is lazy and doesn't want to do any homework, or 3) GAS is just figuring out his client's tale makes no sense and doesn't match up with a testimony that came out during the criminal trial???
Dang, we almost need a poll!
Maybe we should also be placing bets as to how long GAS lasts as LK's attorney. I am not seeing a huge payout for him!
In pleadings the plaintiff or respondent/defendant takes the pronoun of the individual represented by that term. So either "she/he/they" if it is an individual and "it" if it is a corporation. There is nothing in this pleading that suggests to me that Lauren asked for the disclosure directly.
A represented party asking for disclosure directly is improper the way ex parte communication with a judge is improper…oh wait…
It's only a small thing, but they've always had "legally" before "residing" in every other document, but it might just be an accident that they've left it off …
I see no reason the defense attorneys should jump through hoops to give the Kanareks a damn thing until her righteous parents comply with months old subpoenas! Of course the Kanareks apparently still believe the universe revolves around them. Remarkable ain't it?