Since Crosby doesn't know as it doesn't exist any more, does anyone else know about what those numbers mean?
I too would like to know, have one someone that needed some money and left here.
Nice, comfortable saddle, fits middle of the road backs well.
Pictures may help?
So I got curious and went and looked at my 2 Crosby Prix des Nations because I don't remember seeing any numbers on them. My 16" I've had since 1972/3 and is still my main saddle. It has no numbers that I can see. Unless they are hidden somewhere? The second 15" PDN I bought on eBay for $200 and it's "younger" but I don't know how much younger. I bought it about 7 years ago. I couldn't find any numbers on it either. Where to look more specifically?
Mine has these numbers, is a Tad Coffin, Lexington, printed in gold letters on the billet guard.
Numbers on the left side: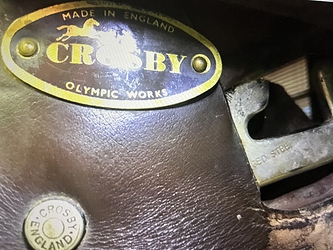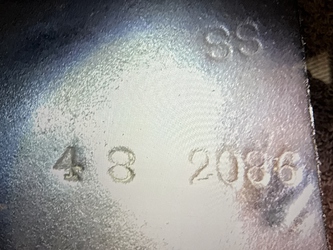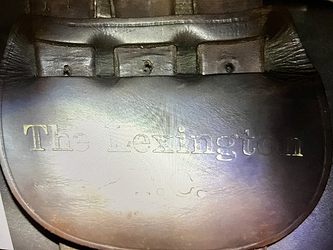 Did Crosby make tad Coffin saddles??? Did not know that.
My Pdn that I bought used in 1996 has a serial number on the actual flap underneath but I have no idea what it means.
A S/n on a removable buckle guard wouldn't do much good in case of theft etc
The numbers are on the saddle flap itself, under the billet guard with the Lexington, etc.
I wonder if the SS means for jumping, as SD means for dressage, as in some all purpose german saddles?
Here is more on the Tad Coffin and Crosby story:
Crosby made the Tad Coffin Lexington and Equilibrium. The Lexington is an older all-purpose/ eventing saddle similar to a VSD style European all purpose (more dressage oriented). It was the predecessor to the Olympia AP. I think some were wool flocked, the Equilibrium came out in the 90s and was a close contact.
SS stands for spring seat. I believe the other numbers are related to manufacture codes for the location etc. You might also check the stirrup bar to see if it was stamped with anything. The tree was likely a M but they also came in W.
OK, this is what I have:
Crosby Equilibrium 16 1/2 " seat.
1 6 1680
165
Crosby PDN 16 1/2 " seat
5 10 415
JE
Crosby PDN 17 inch seat (newer? style- small knee block- odd, I've never seen this)
7 11 1790
45098
I'm trying to sell this one, it doesn't fit anything I ride. Too wide.
I love older style saddles, "minimalist" hunter/jumper saddles. I also have 2 Courbette Stylists, once since I bought it new in 1978, still in use. I paid between "Free, please take it away, everyone knows that you need big knee rolls and lots of padding and a deep seat to hold you on your horse", to $50 and $100 each for these Crosbys, from people who don't appreciate them. I take my saddlery advice from Denemathy, not from the latest talking head being paid by a saddlery company.
But it seems a mystery exactly what those numbers (and letters) MEAN. If anything that I might be interested in. Date and location of manifacture? IDK.
As a big lover of older Crosby saddles who has been trying to crack this for quite some time, I believe I've found that one of the numbers is the year of manufacture. I haven't confirmed it with anyone who worked for them or Walsall Riding Saddle Co., but it's my best educated guess.
For example, I found a Crosby XL Excel E on eBay with the number "XLE01 2 5906". XLE obviously means it's the XL E model (the equitation model from the XL Excel line), with 01 being the year of manufacture, 2001. Seeing that this line of saddles was offered from around 1997 to 2001 or 2002, this adds up, and I've seen the late '90s ones numbered like "XLH7" (XL H hunter model of the XL Excel line made in 1997), for example, so it seems like the single number in the beginning is the last digit of the year of manufacture. I unfortunately don't know anything else, other than that 2 might be the month of manufacture (not sure about that, though).
With my saddle, the number is "9 3 9910". From my best educated guess, the saddles from before the early '80s or so seem to not have numbers (my very old PDN doesn't) and the older ones with the gold "Crosby England" nail heads appear to be early '80s to circa 1990, while the black and gold "Miller's Crosby England" nail heads (or anything from their later specialized lines such as XL Excel or Selle Française, or their special edition 1996 Olympic models, with their own nail head designs) tend to be 1990's to around 2002, when Miller's folded. I don't know as much about anything after that. My saddle has the "Miller's Crosby England" nail heads and I believe this makes it a 1999 model, which would add up with the leather and overall design of the saddle compared to my much older Crosby. I believe the number format changed in the early 2000's or so, and I've seen a few models with numbers that appear to be month and year (ex. 11 01) on a top line, and one once that had "2001" written on a line, and seemed to line up with the approximate year of manufacture.
Like I said, I don't know this 100%, but this is my best guess. I unfortunately can't figure the rest out, but it may just be the sequence in which it was produced that year or something to that effect. Mine also has a number towards the bottom of the flap that reads "45205", which I'm unsure of the meaning of. I also have "WVC" stamped on mine.
Oh, and the Ruiz Diaz manufactured Miller's Collegiate saddles (prior to 2002) have a small string of numbers on the right side of the left sweatflap (if that makes sense), and I believe I've figured out that the first digit or two (depending on whether it was made in the '90s or 2000's, as anything made before the two riding boot LL's in the Collegiate logo on the brand plate, c. 1995-ish, seems to have no numbers) represents the year of manufacture as well, though again, I can't say for sure. Mine reads "604021842", and I believe is a 1996 model. I've seen special edition 1996 Olympic models that line up with this as well, and some from other years that the owners claim they purchased them new in, that match up with this theory, same with other Ruiz Diaz-manufactured saddles with the same type of serial number, like some Ovation and Pessoa saddles. I unfortunately know nothing about the rest of the number.
Again, I'm not certain about this, but it's just my educated guess!
Thanks. It's amazing that the "code" is so hard to "break"!!! LOL.
No problem, and I agree! I'm not sure why they didn't use the last two digits of the year of manufacture pre-2000, which would've made things easier! I really like the fact that many brands nowadays have easier to understand serial numbers (and that the Internet has so many guides on how to read them)!