The organizers of this HT deserve major kudos!, and it would be wonderful if more organizers were to follow suit; competitors (myself included) are notoriously bad about filling out evaluations, even online - we should all be doing this on the regular instead of complaining.
The week after the Horse Trial, they sent an email (below) to all competitors with an apology for the dressage footing and a solicitation for feedback; I thanked them profusely and provided detailed feedback (positive and negative) via the email link they provided, to which they responded with kind appreciation for my input. Very classy on their part

I will be back next year - and it will be interesting to see whether any changes/improvements are made; I absolutely love this venue and will enter regardless, but this action on their part made me feel all warm and fuzzy towards them.

(I added a pic of my mare and me over their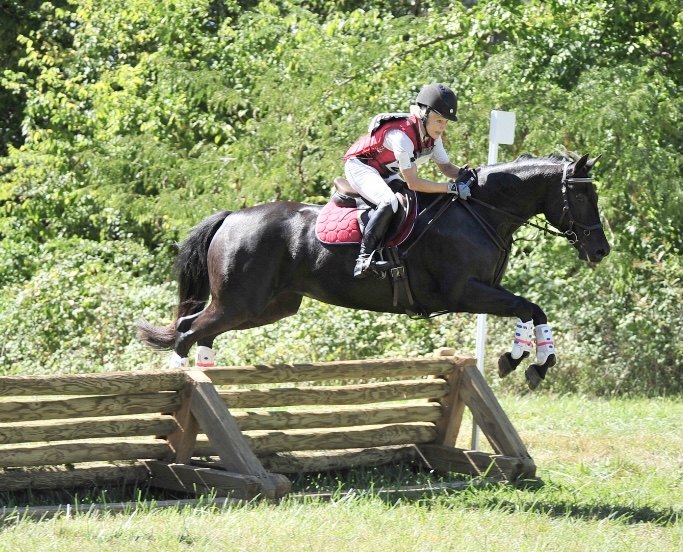 "Steeplechase Timber" jump.)
LETTER FROM THE ORGANIZERS.
Dear competitor,
Thank you for coming to Old Tavern Horse trials this past weekend. We hope your weekend was a successful one.
This is the first time Five Rings Eventing has run a national horse trial and the first time the Intermediate level has been run on the Fleming Hill property. The purpose of this email is twofold.
First we would like any and all feedback – both positive and negative – on all aspects of the Horse trial – from administrative issues to scoring to the quality of the various disciplines as constructive feedback will be useful and help us to continue to improve this event.
Second, we also wanted to comment on the dressage footing that deteriorated so quickly over the weekend. We apologize as we did not see this coming at all before the event. Though we had several inches of rain on Tuesday when we set the dressage rings up, on Thursday the ground felt good to us humans!
We were very surprised that the horses punched through the upper crust and underneath held a lot of moisture. We have held dressage there several times before and never had this issue. We are planning for other options in case of a similar rain pattern for future events.
Footing is one of our highest priorities at the events that we run at Great Meadow so we were caught unaware, and we wanted to make sure that you know that we realize the situation and will do everything that we can to make sure that doesn't happen in the future.
Again, thank you for coming and we hope to see you next year.
David O'Connor
Darrin Mollett