Thanks for sharing, what a lovely property! This is exactly the type of setup I dream of. Maybe someday…
Brag away! That looks like horsey (and human) shangi la. I'm 100% jealous but in a good way. It's just beautiful!
LOVE the "sound of freedom" in your Instagram video

Looks amazing… good on ya!!!
Now I get the evil burrito! Well done you and those of us who have built might appreciate even more just how much work and planning went into all you got done. What a place to enjoy and your designs and colors are all so natural and pretty. I did that same fencing and love it. Maybe I got the idea from you! More pictures please of your favorite features and decisions.
My feelings are the same about COTH. It's profound the giving that goes on here. What a community and how we benefit.
Yep! So since I didn't really know much about chickens but do about horses, and I wanted them to be as natural and free-rangey as possible, I decided on a main "sacrifice area" around their coop (which has its own hashtag, palacio de pollo

it legit has wood plank print lino) that was fenced with the wooden posts and hardware cloth, then the whole exterior has wooden posts and hardware cloth with an additional 2' laid out on the ground to prevent digging. We have coyotes but that digging concern was really one of my dogs. The individual paddocks are t-posts and chicken wire and then lots of netting over the whole things because there are hawks, kestrels, and bald eagles - and the netting has helped but we did have a breach, thankfully he or she was just as upset as I was and I shooed it back out and the roo had gotten all the girls under the coop. The gates are simple slide-ins with hardware cloth and I move them once a paddock has been scratched down.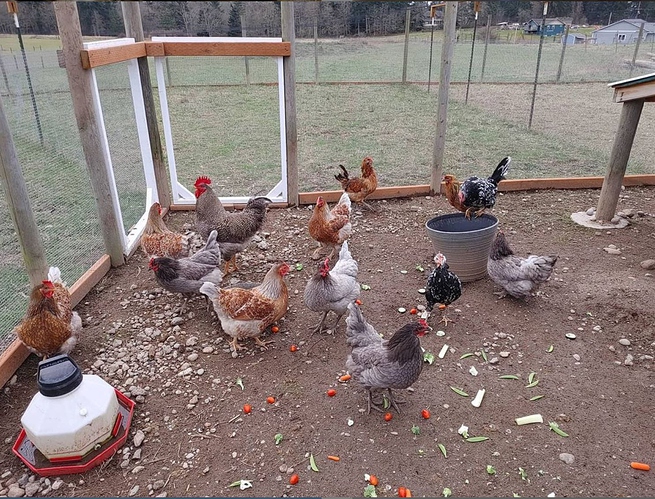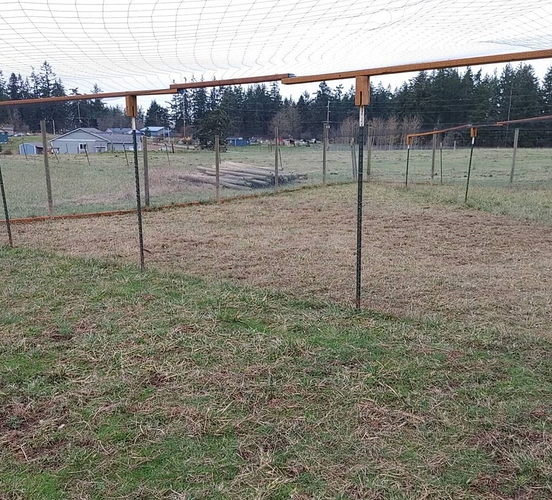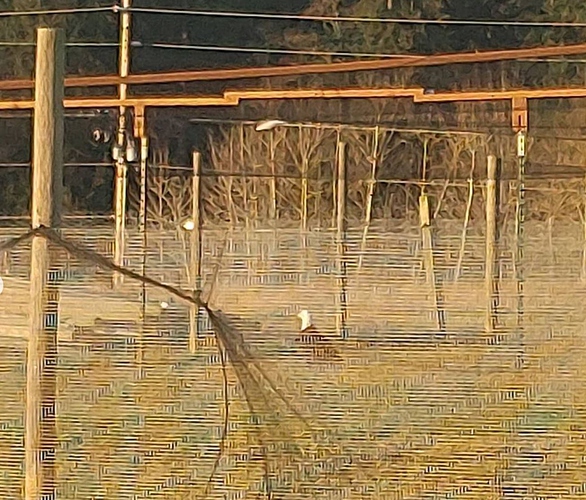 Well I basically wanted a copy of where I was boarding at the time - it was quiet, peaceful, and safe. I even used the same fence guy to make sure haha. I went with no-climb topped with electrified poly, Centaur calls it white lightning but mine's black ;). The boarding facility just had a 4'' Cenflex top and my Irish boy scratched his booty on it. When I do the bottom property I'll probably just do four strands of the black lightning, which is what I did separating the two current paddocks. I also will do an 8-10' path between the new pasture and current paddocks and new pasture and property lines, for one thing and purely accidental I have a 1/4 mile "path" around the current paddocks that I plan on using seasonally for conditioning and breaks from arena work, and I have another thread about having THOSE NEIGHBORS so having that originally unplanned separation has been a great idea and I totally recommend that to people now.
I also used Lighthoof around the barn, one side only has one stall so did a run on that side, and then a strip of it in the sacrifice area. Two-fold, we get really wet so horses spend several months up off the paddocks, and…we get really wet

It has been amazing.
Haven't been on here in forever, but glad to see everyone doing so well! Excited for your Jenn!! The place looks amazing! Google Earth must have done an update for alot of people, my barn is finally on the map too! Lots of love and late new yr well wishes to all!!!
Hello and I'm glad you're back! I had missed your posts!
That fencing and all is just plain gorgeous!! Practical, safe, and good looking!
Love everything you have done. That chicken coop idea is brilliant. Love your burritos, thank you for sharing them with the board. You can't help but giggle when you watch their antics.
Maybe one day my fence will look as nice as yours.

Darn, now I wish the location of our chicken coop allowed for little paddocks off it. That is so brilliant. (Even if the intruder did not think so.)
Your place looks great!
I know from personal experience, at our place, how hard you must have worked to accomplish all that you have.
What a wonderful job getting the farm just the way you want it! Everything looks fantastic!
Well the house, horse fencing, and arena were 85 percent contracted out, so the hard part was writing those checks! And my Dad retired (finally) and moved up the year after the house was done and horses were home, so he was a great help for everything. He is one of those guys who can't sit still plus is super handy - he did all the Bobcat and mini-ex work and made sure the fences were straight. All I did was paint the fence posts and the coop, and help screw in brackets, run the nail gun, and ferry fence posts from piles to holes and use the post hole digger to clean out after the auger, yanno the unskilled labor. Funny story, I tried really hard to keep up with him, but after he planted all the arena posts he went out town for a week. He put the paint cans and brushes by the arena and pointed and said "get 'em done" before he got back - I busted my ass (I work FT+) and when he got back he laughed and said he had been kidding

Ha ha very funny.
Your fence people did an outstanding job! And give your Dad a hug - his contribution is an invaluable one. Doing things right the first time is the best way but it can cost $$$$. Now you have to get enough hot wire up so the horses don't tear anything up. Even with all the hard work it is so nice to look at things and think " It is all mine"! And your place looks wonderful with easy keep up!
Thanks for those additional pictures and it sure all is so pretty and functional. Love the picture with the arrow that we have some angry burritos inside. You/they are too funny. We need these laughs these days.
The fencing all has a strand of hot on the top (mentioned upthread) because yeah, I want my fence to stay nice!

Yeah they haaaaate having their "freedom" restricted no matter what it is. Here they were locked in a stall together because we were in and out with the tractor dumping rock, but if I close a stall with them outside, they bang on that side of the door too. Little brats.
Your farm looks fantastic above and at surface level! Wonderful when it all comes together.