Hi all! Last time I posted we were looking at buying some undeveloped land and you were all so helpful with setting it all up. Unfortunately the land fell through due to the well being messed up from a previous owner. Thankfully we were able to find a place to rent that has some pasture for all of the horses. The current owner has offered to let us buy the property so I thought I would turn to this forum for some advice and land layout help lol.
Some facts about the property, it is 9.38 acres and the house was built in 1952. If we bought the property, we would definitely tear the house down. It has been renovated too badly to come back from and it is just a mess. The land is completely flat with a slight slope to the right of the property. So far with all of our flooding and rain the soil has stayed pretty firm and has drained nicely. We are located in Western Washington.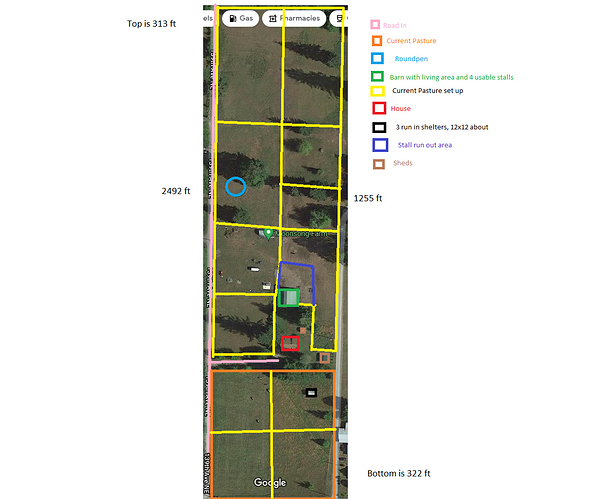 This is the current layout of the land. I tried to point out and describe everything of importance. Please let me know of anything that I missed that you would like to know about.
Currently we have access to the orange pasture which is supporting out 3 horses. It is about 1-1.5 acres. It is not ideal but it is what we are working with currently. The yellow is how all of the pastures are divided at the moment.
So my main areas I need help with are:
We are thinking about putting a house in the far left corner of the property once we would tear down the house in red. Or should we keep it where it is now?
Move the round pen in between the current house and barn or leave it where it is?
I would need a arena but I am unsure where to put it. It would be about 100x200 hopefully more like 150x200 but who knows.
How would you divide the pastures for the best access and easy maneuvering for switching pastures.
Not sure where to really do trailer parking. I have a 3 horse trailer at the moment an it fits next to the house but is very annoying to back up and leave again.
Overall the property is very disorganized and we would completely redo the fences so any layout help would be amazing lol
Any other advice?
Thank you so much!!