@Heinz_57 but of course this is the same really for all the "custom" saddles. Some might have different panel options.
Are they now offering different flaps and cosmetics? When they first introduced the saddle there were no options other than 3 different seat sizes and, umm, 5 (?) different widths, which is what kept the price way, way down. You couldn't order any custom options- if you wanted that, you had to buy the… Serenity, I think? My memory might be faulty, but I think the Serenity was the same saddle but with custom options.
Okay, my curiosity got the best of me and I went and looked it up. They upped the price by about $800 and now you can customize it.
Yup, they expanded the options on it, you can bling it up however you like now. For a price.

Update:
The fitter came out and added wool to the panels. It was still low in front, but adding more wool now would make the panels too hard.
The wool compressed in under a week and the saddle does not fit without shims. It will have more wool added when it is broken in and the panel softens up.
I am trying to get information from Stubben as to what my options are (return? How many adjustments am I liable for when it doesn't fit? What if wool doesn't solve the issue?) I'm also trying to find a less bulky alternative to my Mattes pad, which is too much for all but the front of the saddle.
I'm trying to remain optimistic, but feedback from friends/trainers/etc isn't very positive.
No help on the saddle itself (which sounds like a giant pain!), but for a pad, I was very happy with my Thinline trifecta, with shims.
I will add Thinline to the list, thank you!
Stubben adjusted the saddle at its headquarters. I got it back over the weekend. It now not only sits on his withers — less that 2 fingers worth and there was dirt in the front of the channel — it also sits right on his trapezius (which the lovely layer of embedded dirt from many muddy days made quite obvious).
My gelding was so uncomfortable, he didn't want to trot or canter. He usually wants to cantercantercanter when it is cold, so that's a huge red flag to me.
Stubben is allegedly reviewing the photos I sent and will decide the next steps. I'm beginning to feel like I will have to keep returning the saddle for new "solutions" and there won't be a point at which the company says "hey, this is 100% the wrong tree for your horse." I've given up on handling it myself and have filed a BBB complaint. I plan to follow up with the consumer protection division of our State Attorney General's office if the BBB cannot mediate a solution.
I'm disappointed and frustrated at this point. I really hope this doesn't happen to anyone else.
Oh no, what a crummy update.

I really hope Stubben makes this right for you. Thanks for keeping us updated, I think it is important that people are open about their experiences with Stubben.
Thank you.
I will definitely continue updating. There are really discouraging Google reviews and 2 other BBB complaints on the same sort of issue.
I'm really struggling to understand how they can't tell me why it doesn't fit without seeing the horse, but HQ made a repair to "fix" it without seeing him and will ultimately decide whether it doesn't fit without seeing him.
This is how the clearance looks AFTER it came back from VA for its second flocking adjustment: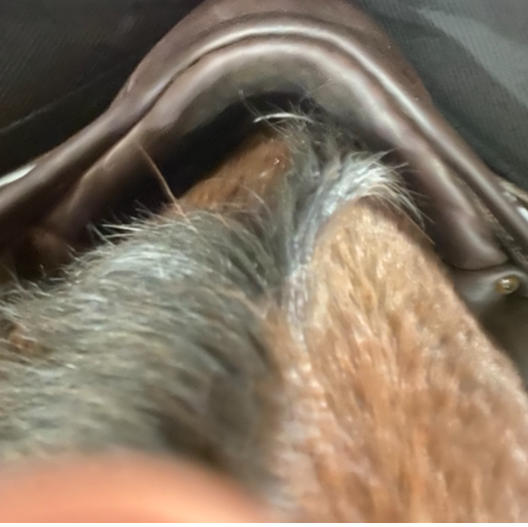 And this is the underside after that very brief ride, with visible contact points/dirt in the channel: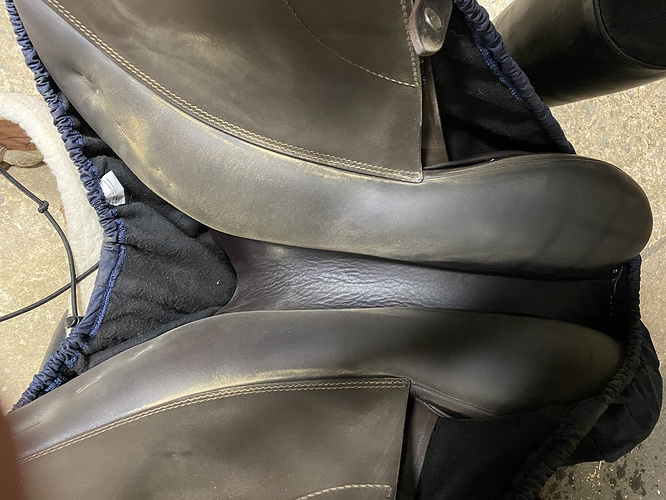 Funny that the Stubben NA states the following, when fitters don't actually take measurements and just eyeball things based on demos:
With Stübben Custom, a Stübben Certified Master Saddle Fitter will visit with you and take specific measurements that will ensure a proper fit for you and your horse. No more "narrow, medium, or wide," or any other types of approximate measurements. The measurements used to craft your Stübben Custom saddle will be unique to you.
Maybe it's the angle, but those panels definitely look like they start way too low for this back. The tree could be "right", but that's irrelevant if the panels are wrong.

FWIW, I did order my 1894 last month. It won't be finished until March, and I hope I don't have the same issues you're having.
They're definitely too low. I couldn't even get two fingers in the front.
There are plenty of happy Stubben owners, so I'm wagering my disaster is in the minority. I just wish Stubben had a more workable policy for dealing with these mistakes.
I hope your saddle is perfect!
Hm. My Stubben rep didn't take any measurements of my horse either. I thought it was odd and even asked about it, and she said that she didn't think static tracings translated to a meaningful fit of the horse, and preferred to see them ridden in a bunch of different saddles before making a decision. This I could understand, because I had a horse years ago who had a saddle that fit perfectly on paper but he hated it. I rode in a bunch of different trials in front of her and then she gave me the specifics I'd need for a custom order.
I agree with you and Heinz 57 - that saddle does not fit… at all. Looks like the panels have way too short a drop, or the tree configuration is not in sync with the curvature of your horse's withers and spine.
The panels sit on his trapezius too, which I thought was a huge no-no for Stubben. I sent them this photo, which makes the contact points pretty darn clear (and matches up to raised patches behind his withers that developed the next day).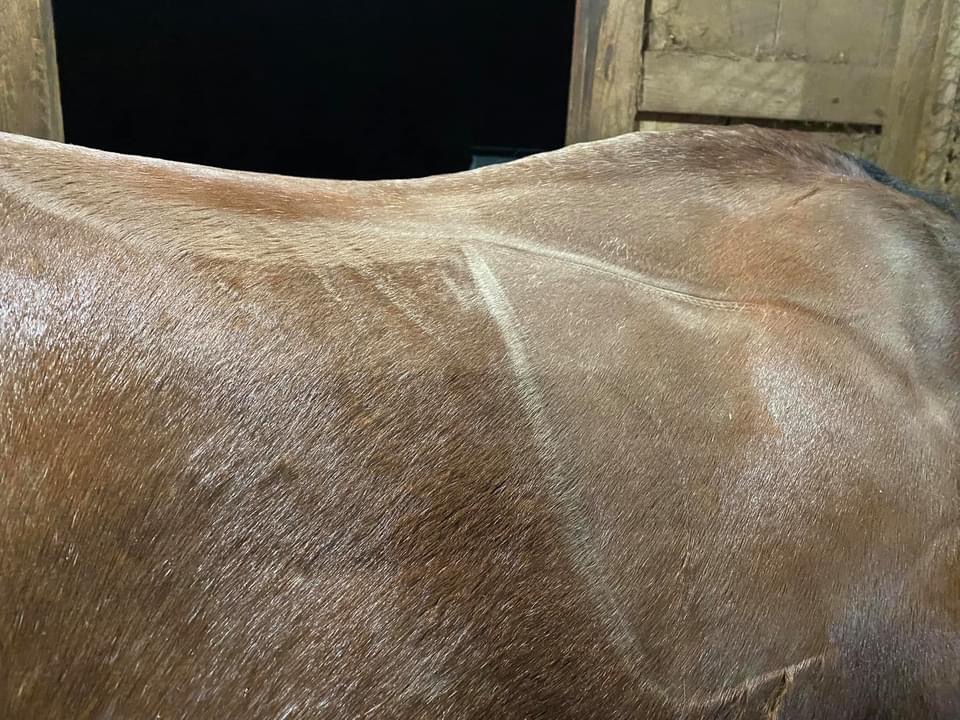 Another update:
Stubben is ordering special panels for my saddle and is sending a fitter out before the panels come in to do an in-person assessment of how much the wedges that were added last week are hurting or helping (to decide whether they should be transferred to the new panels).
Someone will also be coming out after the panels are changed to make any flocking tweaks. If that doesn't work, we're calling it a day.
I have bad luck, so I'm cautiously optimistic with a heavy emphasis on the cautious part. I'd be thrilled for the saddle to fit him — it fits me well and my only complaint on my end is "coated leather: yuck" — and more saddle shopping would be awful.
Hopefully this will be a different fitter than the one that fit him into the current configuration?
I'm so glad they zeroed in on the panel issue, and hopefully whoever effed up in the first place gets a talking to. I'll keep my fingers crossed that you get the right panel configuration and it ends up being a keeper.
The pre-panel evaluation will be done by the manager of the fitters for this region and the post-panel evaluation will be done by the head US fitter. They're definitely trying to make this right and get the fit as correct as possible, which I appreciate.
(Fingers crossed my talented quadruped agent of chaos doesn't hurt himself before this gets sorted. He's done everything from fracture his face to earning a melon size shoulder hematoma while playing, so he might need a giant hamster ball for turnout).
I'm very glad my gelding's fit issue was easy to capture in photographs. I imagine less extreme issues are much harder to get resolved remotely.
Excellent, I'm glad somebody is stepping up!
Update: The panels arrived after some shipping delays. I got my saddle back on Christmas Eve.
The fit wasn't ideal, but looked like it might be workable. By the third ride, however, it was sitting on his withers again (confirmed by slathering the top of them in chalk pre-ride, all of which transferred to the gullet in a very brief ride at the walk).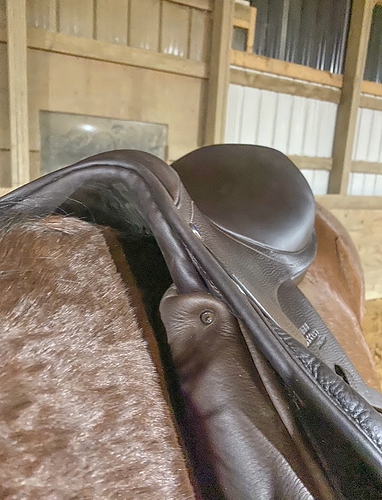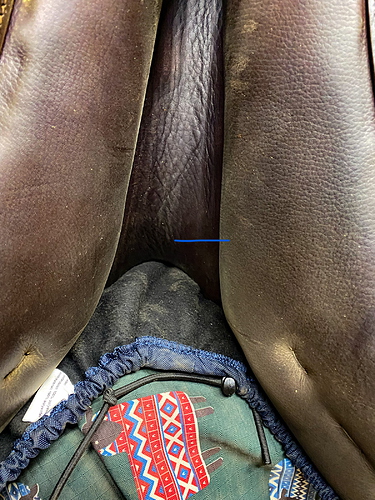 (Blue line to show start point of transfer).
I emailed photos and have made several calls, leaving messages every few calls. The regional fitter I'd been working with apparently retired, so I am back in limbo with a custom saddle that sits on his withers.
I really hope someone gets back to me soon and that I can just return the saddle at this point. I really wish we'd tried a saddle in "his size" on to be sure before the order. The flexible tree or tree shape (or both) just does not work for him at all.
I was hoping for a more positive update… sorry OP. What a clever idea to use the chalk!
I hope Stubben gets back to you ASAP and makes this right. It's absolutely unacceptable.