I've seen 80k. Probably not very common, though.
If I were you, I would let the hunter dream go. It is, indeed, a dream. If I had to do it all over again, I would find a fun low adult jumper. The jumper ammys at our barn have the most fun. They chip, who cares, as long as it was safe. The horse is ugly as sin (poor guy), oh well, he likes his job! They get to use fun tack, fun show coats and shiny helmets, the whole thing looks pretty good from the vantage point of the hunter ring.
You just summed up why my pricy hunters are my sale projects and why the 14-year-old 1.30m jumper I bought in December (after 25+ years of showing hunters/equitation) is my lifer. Right now, I just yahoo around the 1.0m on that horse and am having a field day!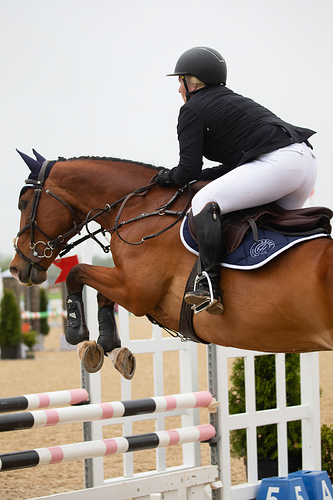 We should just pull a /wallstreetbets move and refuse to buy any unreasonably priced horses. If we got enough people to hold out, we could drive the prices down.
But really - give it a few more months and buy the dip. A friend just told me they sold their wheat crop for 2x what they normally sell it for on a really great year. Droughts, fires, real estate deflation and the economy nose diving - there will be so many amateur horses flooding the market you'll have your pick of the litter.
But here's the thing: what's "unreasonably" priced? Sure, there's the odd young one that maybe won't vet or has a weird quirk and yet the owner still thinks it's God's gift, but in general, these prices aren't unreasonable because they reflect the entire market. They're not outliers.
And I already said upthread as to why I don't think there will be a dip. The one percent buying these horses DGAF about real estate deflation or the cost of hay, hate to break it to you.
That's simply not how economics work. There will be a dip.
Regardless, I wouldn't pay more than $20k for anything less than 5 years old - no matter the bloodlines or talent. They cost the same to board and feed and no guarantee they will stay sound. No guarantee they will jump well. No guarantee they don't develop a crippling neurological disorder.
We don't know much about how this will play out economically, because we don't actually know the elasticity of the market. Will a 30% cost increase in horsekeeping (pulled that number out of my ear) lead to people selling their junior and amateur horses en masse? Meh, I don't think so. Sure, some will be forced to sell. But I don't think the market will be "flooded." My two cents.
Long term, here's what I think could really happen. Demand for horses will go down based on cost of horsekeeping. That much I agree with. But supply will also go down, because the people producing the horses can't afford to do so at a loss. You'll have suppliers leaving the market. If supply and demand both go down at relatively the same rate, then prices would stay stable.
Exactly. And @self_made_hunter_jumper , just because you wouldn't pay more than $20k for a young horse doesn't mean that the majority of people will, would, and have. It's my favorite when people use their less common viewpoints or opinions to characterize an entire market.
This is the precise reason I switched to jumpers! I have a HELL of a lot more fun now, way less pressure!! I can still ribbon with a chip, hallelujah!
Truly. One person's opinion doesn't set the market. I don't buy "made horses" because they cost more. As they should.
Love your picture, beautiful!
I've been playing in the h/j market for going on 20 years. The top end of the market has never softened, not even in the 2002 or 2008 downturn. Will the bottom end be affected if we go into another recession? Probably somewhat, but I wouldn't expect to see the prices of the current $70k+ market go down in any substantial way.
What you personally will pay for a young horse is not in any way the reality of what these horses actually cost.
I purchased a horse in Ireland through an agent there and am quite happy with the horse. Everything was arranged for me and I paid very fair prices for everything.
Agree — someone sent me a bunch of videos of 3-4 YOs last week and while they were generally impressive in quality, they were fresh-off-the-plane and $70K for the 3 YOs and $85 for the 4s.
I purchased a lovely Holsteiner/TB cross a year or so ago. Over 17.1. 4 years old. Only had 30 days on him, for just under 20K. He is an Amateur's dream, a perfect hunter and gorgeous to boot. Maybe because he is 1/2 TB his price was lower? He was bred in the US by an eventing breeder and the lady that broke him said "this is not an eventer, this is a hunter".
At the same time, looked at one in Canada that was more broke, 16.2 and pure WB. He was further along and lovely, only 22K. I picked the greenie.
They are out there, shop US and Canadian breeders.

Not sure about the push ride though.
Just for fun I wanted to throw in - this is discipline and breed wide.
Someone mentioned AQHA horses and Ryan Painter. Ryan is fantastic - he's primarily dealing with six figure horses. Most QHs that are going around are minimum mid-upper 5s. Just last week I inquired about a nicely built, nicely bred 2 y/o gelding who has about 30 days of riding on him - $65K.
Most of our sound, sane, reasonably broke horses aren't going for less than $75K… and if they're even slightly fancy or have a great brain for an amateur, they're all six figures.
I'm searching for my next one as an unbroke yearling, and I'm desperately trying to find quality for $30-$50K. There just isn't a ton of supply, and the demand at the top end is from folks with deep pockets.
Where are you located?! I admittedly haven't paid super close attention to the QH market the last few years, but I've never seen any come anywhere near that.
Someone I know sold a 6yo QH gelding last year - sound, sweet, bay, and a CUTE jumper. The only downside was that he was only 15.2 or so. He was bopping around 2', and could have gone higher had his bascule not been too much for his little rider to handle (ultimately was the reason they were selling him). Honestly, they had a really tough time getting anyone to even look at him because he was an off breed for H/J until they finally sold him for 15k in SoCal.
DFW - just came off two weeks at the APHA World Show and gearing up for NSBA.
Here's some listings with transparent pricing - obviously not all of these would cross over into the H/J market. Sure you can find those who aren't as great movers, or don't have the scope/stride for 3', or won't vet, etc for less, but the stock breeds in general definitely aren't the cheaper off shoot they were at one time.: