Who has 2022 babies on the way? I loved following the thread last year.
I'm glad someone else started the foal watch thread this year. I vowed I wouldn't do it again myself after my 379 day wait last year!

I have one mare (same as the one who tortured me last year) due to foal this year, but she's only 180 days along right now.
@EventerAJ already has at least one foal on the ground this year! @Trak_Eventer, don't you have a full sibling to your lovely 2021 filly coming?
My maiden TB mare is currently 241 days. She is bred to AQHA stallion There's No Telling. Trying to get a hunter baby. Should be due around April 16th but who knows really. I've been telling everyone that she should foal between April 1 and May 31

. I'm always a basket case starting about now until the foal is here and every year I ask myself "why do I do this?"
@Montanas_Girl yup!!! Full-sibling to my 2021 filly and is/will be available


Herzensdieb / Windfall

makes me Trakehner-loving heart happy! Should be a super eventer or dressage horse. Herzensdieb is primarily a dressage sire, but scored '9.5' on his XC at his licensing and has produced UL eventers. Windfall is of course is an Olympic/5* eventer himself and has produced offspring to that same level, but he also competed through GP dressage after retiring from eventing. My filly is super brave, sweet, and seems very easy to train. Really looking forward to see this year's foal!
My mare is at 270 days. Starting to get nervous but also excited!
What are you expecting this year? I love to hear all about the babies!
SAS Arielle (Al Marah Horatio x AM Daphne Ho by AM Fond Friar):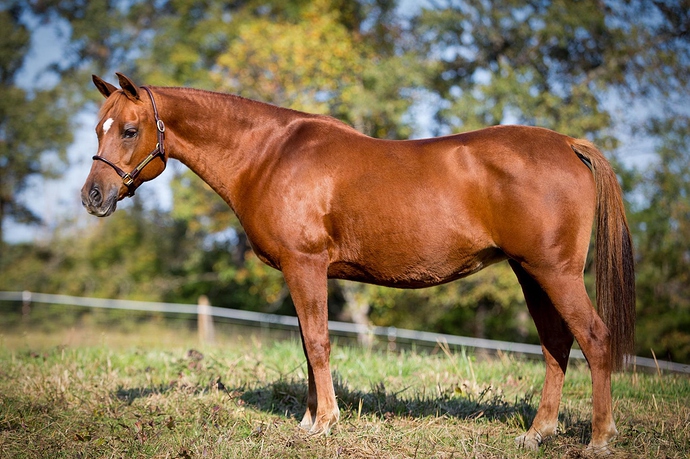 is in foal to Major Mac V (Maclintock V x Majors Tiffany GA by DS Major Afire):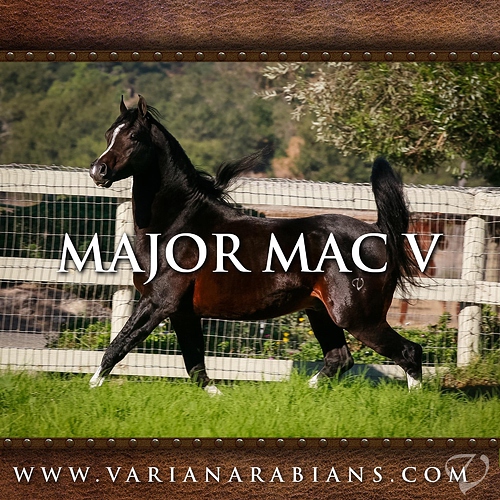 (Reminder: I'm breeding Arabian working western horses, not traditional "sport horses".) This will be Arielle's 5th foal but only her second purebred. I made this match specifically hoping for a keeper filly in hopes of getting a slightly taller, more modern version of the dam. Arielle has given me two fillies in a row, though, so I'm sure I'll get a colt this time around. And, with my luck, he'll be black with chrome, too.

My maiden is at 215 days today, had her 7-month Pneumabort shot on Sunday night.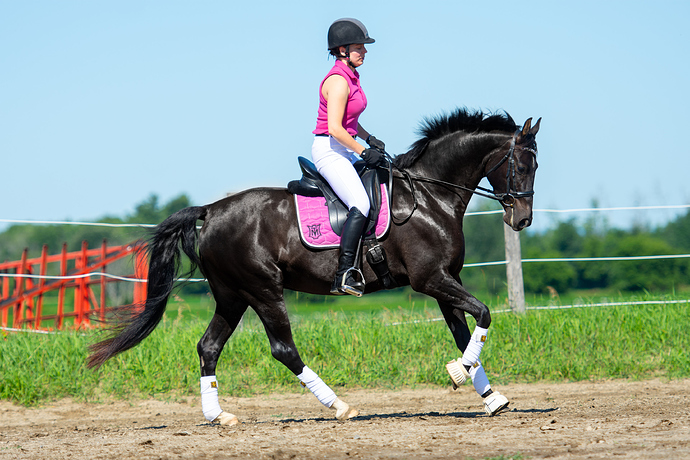 She is in foal to Finest (Furstenball / Wie Weltmeyer)
http://www.gestuet-wm.eu/ENGLISH/Finest/
Love Arielle's kind look! Fingers crossed you get what you want!
Thanks, @Trak_Eventer! She's a real pocket pony (and, at 13.2, almost pocket sized - lol). She consistently passes her kind disposition along, too.
@ASBJumper, your mare is gorgeous! And almost exactly one month ahead of my girl.
I lost my beautiful 3 y/o Morgan gelding this past fall - I had struggled with how to fill in his incredible shoes, but finally made the decision to start over again and put a deposit down on his in-utero half sibling. So, while the mare isn't mine, I'm still impatiently awaiting the little squeak's arrival.
Technically, the breeder is able to retain certain offspring from the mare, which was agreed on, so I have first pick of the available offspring if that occurs. The mare is her last one due, slated for late May.
So, not quite as exciting as those that are watching their own mares, but still something exciting after months of sadness over here.
I'm just staying tuned for the adventure and pics of adorable babies! Love to live vicariously through you brave breeders, so I'm grateful to you for sharing your stories.
Welcome, @TxMorgans!
Be warned that this breeding thing is addictive, even when you're one degree removed. I actually ended up with Arielle because I bought her 2018 filly in utero after putting down a gelding I'd owned for almost 17 years. I never thought a horse would be able to fill his shoes, but Sydney has turned out to be everything I could have hoped for and then some. I love her so much that, when I was offered a chance to buy her dam (Arielle), I did…and now here we are. Lol.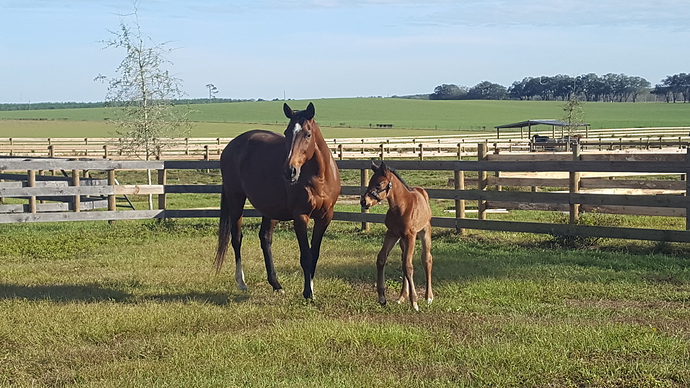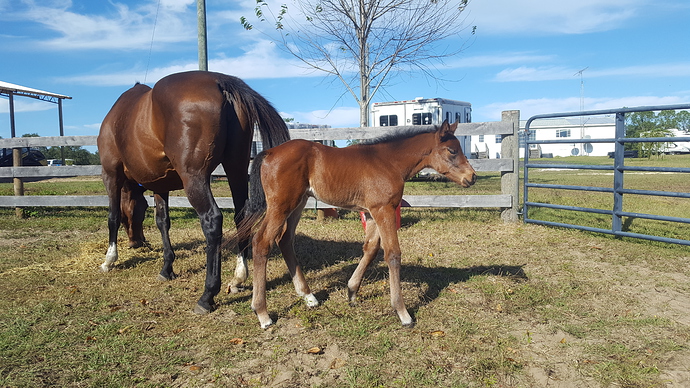 My first is already on the ground! A big bay filly born January 1, around 2am, so she is one of the (true!) elusive TBs who has an actual Jan 1 birth date. She is by my eventing stallion Saketini (Bernardini) out of my favorite, faithful producing mare Shezagreatgal (Albert The Great). This was Sheza's fourth Saketini foal…each year I say "I'll try a WB this time!" And each year she pops out a stunning Saketini foal and my instincts (& advisors) say DO IT AGAIN. This filly has a buyer lined up and waiting, so I am trying really hard not to get attached and haven't named her yet. The last 2 years Sheza was bred on foal heat…we skipped that this time to get farther into January for next year!
The rest of my mares are all bred for commercial racing prospects (my other sport mare Mom's Image sadly aborted a Saketini foal in September at 6mo). Next one up is Faerie Queen (Pure Prize) in foal to Midshipman (Unbridled's Song) at 340 on Feb 16. Just bought a new mare today at Keeneland, Prayer Bell (Pulpit) in foal to Cloud Computing (Macleans Music) due end of Feb.
After that, Ultimate Class (During) in foal to Omaha Beach (War Front) and Entice (Cherokee Run) in foal to Enticed (Medaglia D'Oro) are due very early March. Looking forward to the catalog page of Enticed - Entice and hope it gets a good name!
Maiden mare Comica (Warrior's Reward) is in foal to Street Sense (Street Cry) due around March 14. Then we have a break until the end of April for Bodacious Barb (Agnes Gold JPN) in foal to Astern (MD'O).
Thanks @Montanas_Girl and @Trak_Eventer !!

Wow, @EventerAJ right on Jan 1st! Nice!
Such a foreign concept to those of us who are buried under layers of snow and ice in January, lol! She's lovely!
As of today, my ASB mare Holly is at 250 days. She is bred to Sultan's Great Day. We tried last year, but she lost that foal. Doc got more aggressive in treatment this year and things seem to be going well. I can't wait!!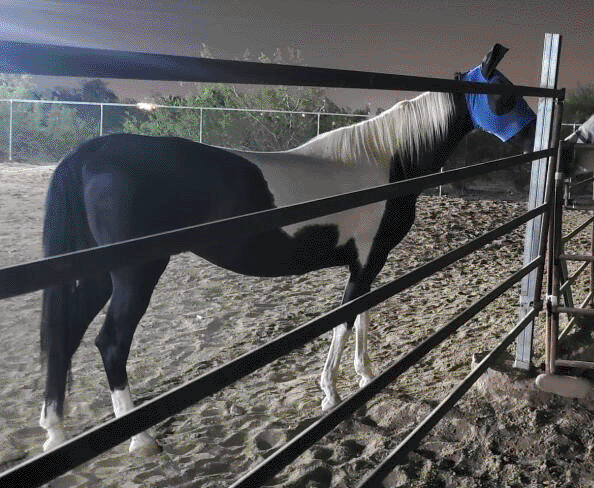 Little filly has been nicknamed "Brie" and she's growing up fast! She has been a doll to handle, just so sweet and personable.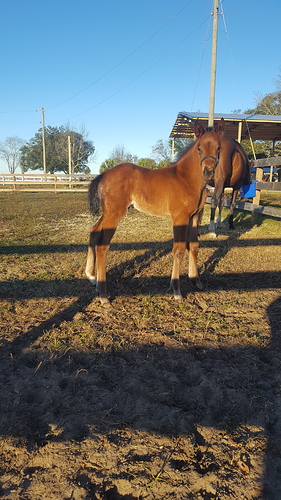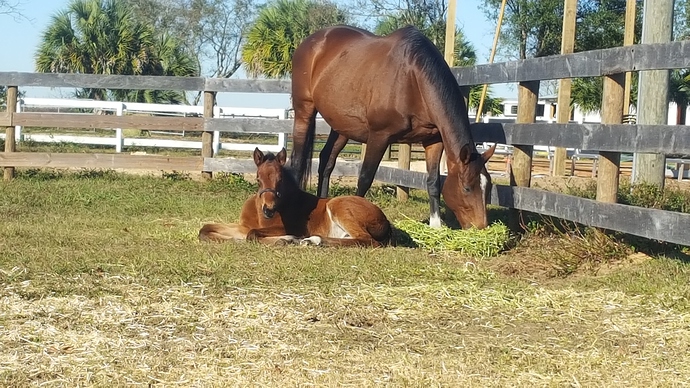 she looks like a sweetheart! those little ears!
Oh my, I needed that cuteness this morning!