What are your favorite techniques for braiding manes? With rubber bands or with yarn. Any favorite videos?
I use rubber bands. I braid and secure the bottom with a rubber band, then twist the braid by kind of wrapping it around the base and tucking the end under, and usually put 2 rubber bands in kind of an X over the braid. This holds up for my warmup and 2 tests (currently showing Training), and then is quick to remove after without needing scissors.
I normally do probably 1 more braid than in this picture, but here's an idea (ignore the horse's grimace!!

)

Yeah I would say I do similar to that technique, but much fewer braids obviously! And I do band the bottom.
My horse has a fairly long (usually 6 inches or longer) and thick mane. I do a minimal amount of pulling, but since we only show dressage I'm too lazy to do much maintenance.
I always see my braids in with waxed thread. I would love to use elastics but I don't have the knack for making them all look even and staying it well.
I do the cobra style braids. I use a wide chunk of hair (2-3 mane combs), and braid up vertically for the first 5 cross-overs. Then I flop the braid down into a normal position and continue braiding as far as possible and rubber band. Then I fold the ends up and secure them with another rubberband. Then I grab the two sides of the hair above the braid, and pull them up and out. Then I roll the braid tightly from the bottom until it sits up above the crest in the 'hood' created by the hair above the braid. Then I stick a Quik Knot through from the back, and pin it down to secure it. I will look for a picture.
I like this style of braids, but I band mine first with the bottom bit of mane folded under, then roll it up and sew it in with waxed thread instead of yarn.
I think knots look best when somehow or another they stay center crest …like right on top. Is there some way to fix them so they do that and do not lob over to a side?
I think that's more a carriage horse thing, I've never seen it in the dressage ring.
ok, so is there a right side and a wrong side for them to lob over onto?
Right side is traditional for all English disciplines, but it's not a rule. Mine's goes left

ETA here's an example with a carriage horse I was thinking about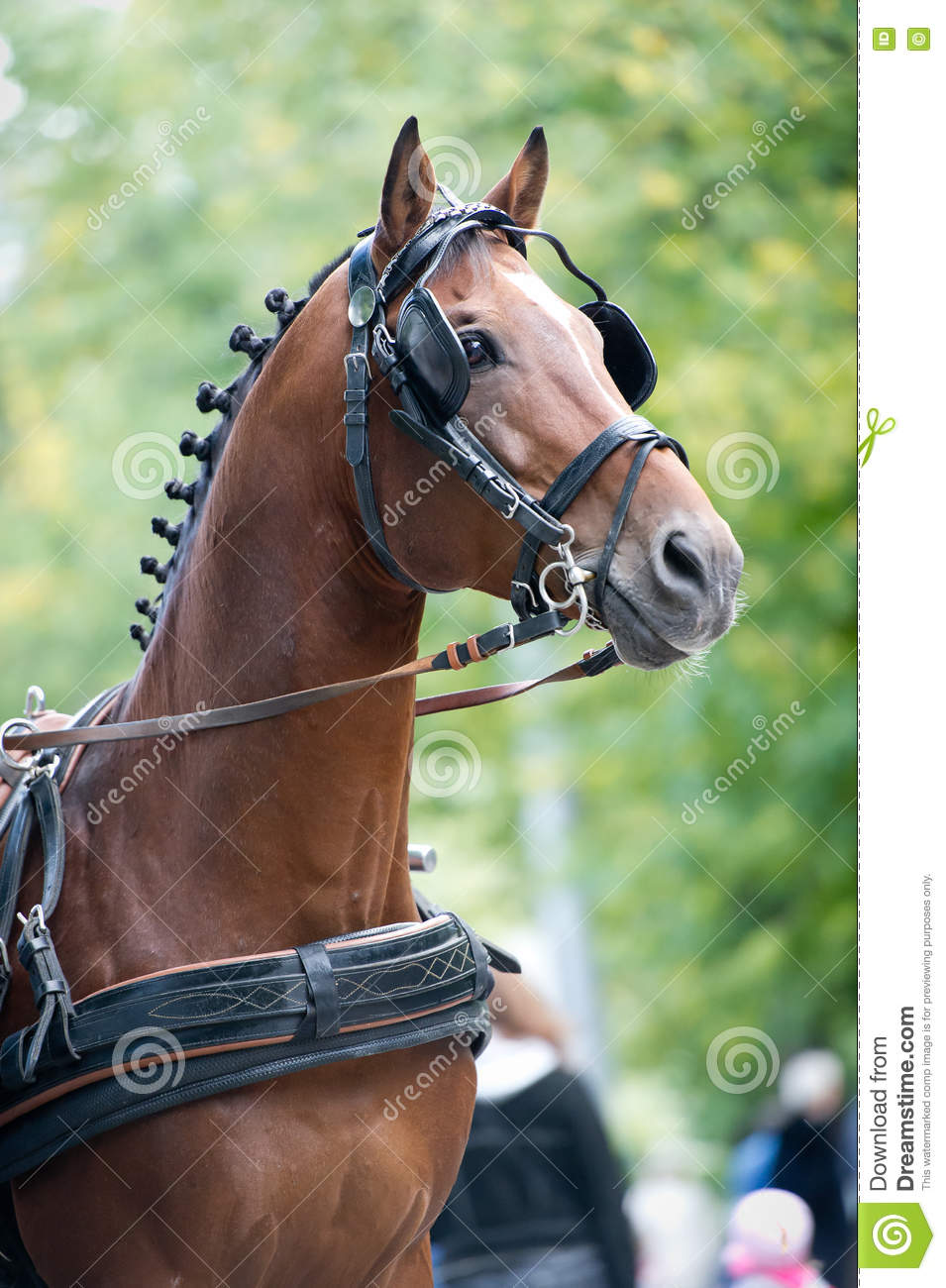 Perfection!! THIS i love <3
In dressage, you typically braid the horse on whichever side the mane naturally lies on. In fact, I know someone with a massively hairy Lusitano whose mane falls to both sides. She parts it straight down the center and does one running braid down each side. It looks gorgeous.
Found a not great picture of my cobra braids.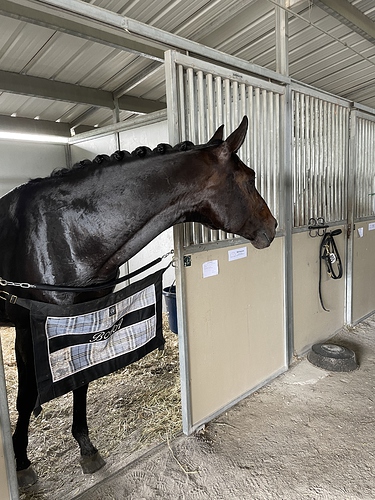 I think that's just a weird Hunter rule. Most people I know braid in the side the mane naturally falls.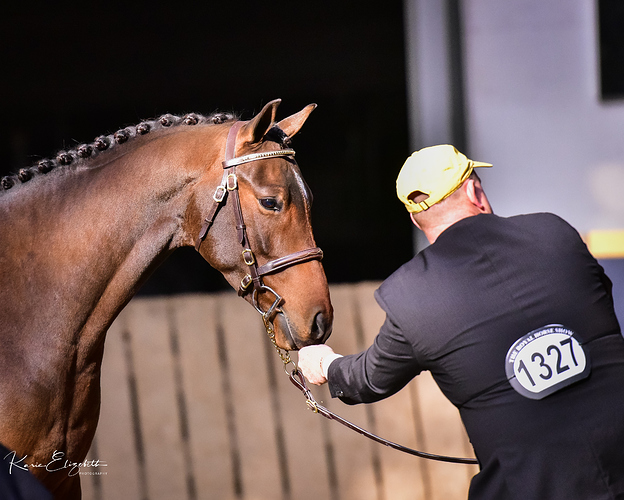 We carriage drive but do little button braids. I like to braid them down with elastics (to secure the actual "braid" part) then I roll the braid up and sew them in. I find they stay a lot more secure then.
I'm also crazy and can only braid on the right, so I will either train a mane over to that side, or I ensure to pull the mane to the right and braid it to that side later on as well (most times on my one guy, it flips over to the left, so I just brush it over and braid it on the right the morning of).
I button braid for line shows, most ridden classes and even for hunter schooling shows (when I do rated hunter shows, I will hire a pro to do the hunter braids as I'm terrible at those!!)
Not a rule, just a tradition!
I believe under USEF the only division that has an actual rule requirement for braids is side saddle, but it doesn't specify which side or type of braid.
Dressage doesn't actually require braids, the rules just say that if you braid you can't use embellishments. I think you can't use the white tape that was popular during the 90s.
Do stock horses still get the bands ou r am I just aging myself?
Braid from the base pulling directly upwards, and maintain that direction when rolling and sewing/banding the plaits.
Mane and braids should fall to the horse's right side so that when you're mounting your sword doesn't tangle with the mane.
Obviously if you don't carry a sword… you do you!

I love these!! I think they look so much nicer than a hundred tiny hunter braids. I think they complement the neck better, too.