We're designing the new 24x32 shed that we're putting up this spring. The building will be used to store tractor, backhoe, ATV, utility trailer, carts, spreader etc. All moveable stuff, so we don't have to plan every inch of interior space. That said, I want to make sure we put the doors in the best location. So I thought I should check in with this crowd since it's very good at calling out stupid mistakes err, no wait, I mean, very good at designing barns.

This is a very simple building-- 24x32 clearspan, with a lean-to for tractor/farm implements along one of the long sides. Stuff that goes in the lean-to would be small carts, manure spreader, rotary mower etc. Doors: two 10x10 sliders, and one man-door, yellow highlighted in this blueprint.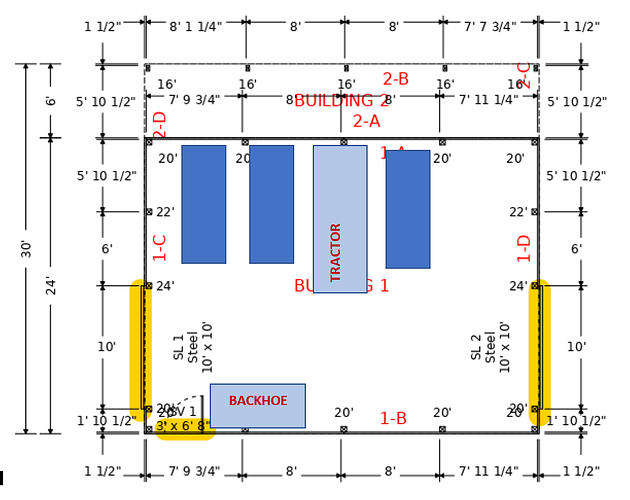 My gut instinct is to have the doors on each endwall directly opposite each other, tucked as far to one side as they'll go. That leaves 11'6" of wall space on the other side of the door. So we'd drive straight in from either side, and then back into a parking spot (blue rectangles).
The tractor with FEL is a little over 13ft long, so I'm thinking that could go in the middle parking spot, so it's not sticking out into the doorway. One tricky thing is the backhoe-- when tractor is attached, total length is about 21ft, and you obvs need room to back the tractor up to it, to hook up. So I'm thinking the backhoe gets put parallel to the longwall, as shown.
Would a different positioning of the sliders give me any advantage that you can think of?