I'm on the hunt for a new figure 8, and right now I have it narrowed down to three options but am open to others. Right now I'm looking at:
Nunn Finer figure 8
Schockemohle Rio figure 8
Lumiere figure 8
Overall I like the look of the Nunn finer more and I'm confident it'll be really nice leather, but my hold up is it has a plain straight crownpiece, not a mono crown and not anatomical. I don't 100% know if my horse actually cares or not, but his ears seem to have a lot more room with an anatomical crownpiece.
I currently have a Schockemohle Montreal bridle and the crownpiece fits him great. He's also a little in between sizes, he's horse sized everywhere except for the noseband area, depending on brands a cob size may fit his nose better. I would order a Schockemohle figure 8 just noseband, but it's not available in the same color as the rest of his current bridle (because of course).
I just rediscovered Lumiere and it seems to tick all the boxes, but I'm suspicious of quality because of the lower price point?
Does anyone have one of these and if so, how do you like them?
For other brand recs, I'm looking for:
Really QUALITY leather
Anatomical monocrown preferred
Around $350 or less
Bonus if it comes with reins but it doesn't have to
Fleece or leather/neoprene disc is fine
Thank you!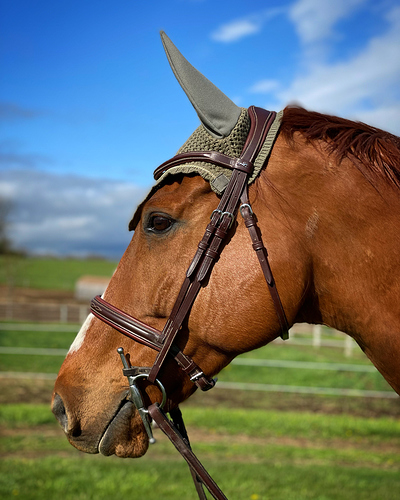 Photo of him wearing his current bridle for internet tax