At least, I don't see them on the west coast but I do remember jumping these as a kid in the UK. Small versions

What do you no longer see in your area, and why?
Tiger Trap
Maybe it's just called something different because trapping tigers is now frowned upon, maybe the V shaped logs were trapping more hooves than tigers, but I don't see jumps like this.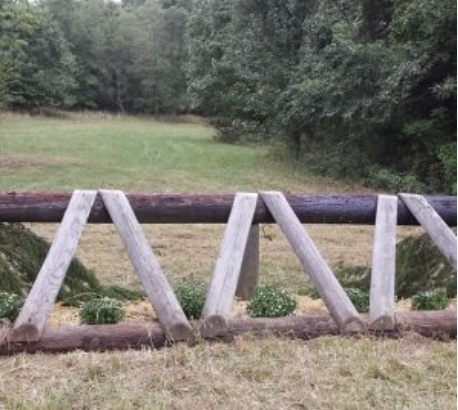 Irish bank
A grassy, rounded bank. You jump on, you jump off. If your horse is a loon, you jump over it. So many ways to have fun. Not the Hickstead bank - but they do have an irish bank at Hickstead.

Helsinki
Uprights in a row running down the side of a hill.

Zig-zag
Uprights in a zig-zag.

Tire jumps
Combining that freely available jump building material and the junk yard aesthetic we all know and love… Hooves can get caught apparently. Never had anything but good times jumping them though! Jumps made of pallets and straw bales fall in this category too.

Stone walls
Maybe it's because I grew up in the land of dry stone walls, but I haven't seen a single stone wall jump here in the USA. East coast thing?

Fan jumps
Like a corner, but not.

What is this?
I don't know what this is called but it looks fun!