Found it yesterday and after it found out canned cat food was being served it moved onto my front porch and has claimed it as its own. My other cats hate it. Gretel refused to eat until I served her breakfast in the barn and will not go up to the house. Hansel hates it too. It needs a new home because 4 cats is more than plenty, especially since one of them is hated by the others and had to move into the house to avoid serious bites and abscesses from the bites.
Anyway the plan is to get it wormed, vaccinated and spayed (I think it is female) and find it a decent home. It won't be easy. Luckily it is very sweet and not feral at all.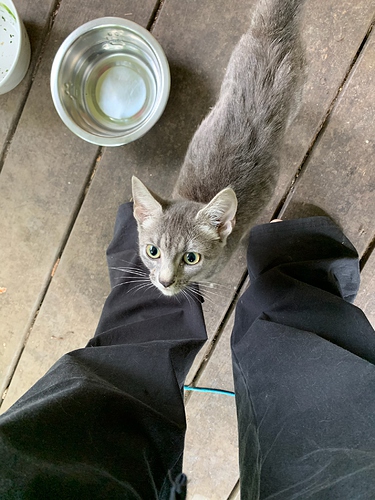 It is a lot skinnier than this picture shows.
So today I dosed it with Advocate (Bayer) that kills fleas, ear mites, ascarids, hookworms. I had it on hand and it seemed like the best option from what I had on hand. But doesn't do tapeworms. How soon can I dose it with Droncit to kill the tapeworms? Kitten is very skinny and has that pot bellied wormy look. Partly from no food and I assume parasites. I can take it to the TSC traveling vets on the 23rd but want to get a start on killing worms. That will help the kitten and keep my cats safer from being infected.