Yes, indeed. I hope the show survives.
"David noted over the last few years at Devon, he and Peter were "less-involved in the decision-making, more limited to the bones of show operations."
He added that in the past, the two had more responsibilities, which was part of what produced the horse show.
Peter said, he felt it wasn't a team effort anymore, as he and David were kept out of the loop on important discussions and decisions, with communications an issue. He added that when he occasionally was asked for his opinion, the decision was made by others."
It appears that somebody up the food chain may have shot themselves in the foot.
Sadly it may be intentional. Developers have been circling Devon for years.
You can look right to Wayne Grafton who is both the CEO and President of the show for all the problems that Devon is having right now. The horse show people don't like him. The vendors don't like him. The box holders are afraid to speak up because they can lose boxes that have had for decades if it gets back to Wayne that they are complaining.
The whole feel of the show was different this year. There were whispers from day one that Peter and David were making this their last show. Based on all the emails I received it looked like they were having trouble filling volunteer spots. The grandstands were not as crowded as they once were but the powers that be bragged about record numbers. Maybe that was because they were charging so much for parking and entry? Who knows. What I do know is the atmosphere was different and that the people who are the lifeblood of the show were not happy this year. Let's hope this loss spurs the people in a position to make a change to do something before it is too late.
well there is a rat in the mix Wayne W. Grafton retired following a successful career in Land Use Planning and Zoning.
Who is in a position to make a change? I worry that it's intentional and that if the show is unsuccessful they will say it's not viable and develop it.
There were rumblings this was coming all week at Devon so not a surprise to me but I was hopeful it was a bit of a power play to get Wayne out of power. Doesn't sound like that is likely to happen so could be the beginning of the end for my favorite horse show. Extra thankful I finally got my first ever blue ribbon from there this week just in case!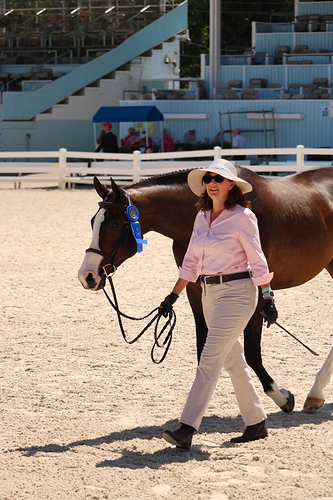 The Board of Directors, presumably.
Nicely done!
I will be super sad if I never get to see Devon!
Sad news indeed. I had mentioned on the Devon thread that the Saddlebred divisions were practically nonexistent. I wonder if those exhibitors had suspicions about management
Also wondering if things are going to go south for the show grounds. I signed up to get emails from the attorney who was working with friends of Devon to keep all the developers in check and I still get emails as he's still keeping an eye on things
The board in Easttown turned over nearly 100% due to these development issues. The residents love the horse show and will continue to fight for it. The rumor I heard was the intention to eliminate the horses and treat it more like a regular fair. That didn't happen at least for this year.
I was just going to ask what the connections were between the new management and land developers. I thought I was just getting too cynical. Guess not.
Congrats! Beautiful horse.
I would hate to see the defection of Peter and David be the death knell for Devon. I realize that they know how to manage that show in a way that no one else can really understand. They've navigated all of the changes in the BOD over the past several years, and they know the players, and the behind the scenes issues.
Devon is not like any other show in the country. When you ride into that ring, the feeling is amazing. Probably sounds trite to say that you feel the history of that hallowed ground, but you really do. I cannot imagine Devon without Devon. I mean, who cares about a train station?
I didn't go down this year. I would have said goodbye to Peter- I never got to know David. I know that they don't need the money or the aggravation, but the fact that they are still doing the National is telling.
My Devon Horse Show ribbons, including the Reserve Championship, are in a shadowbox on my wall. My Dressage at Devon ribbons are in a display table. I certainly hope that I do not have to look at them as collectors items.
New generations need to have the opportunity to compete in that ring, no matter what discipline.
How can someone who was in planning and zoning end up the president of Devon? Isn't this board comprised of horse people who have a real interest in the show. Just not that familiar with how horse show boards work. It would be an absolute sin if Devon ceased to exist.
And learn the ropes of managing it.
Running anything like a horse show is thankless work with an onslaught of whiners and complainers. No one wants the work, so someone, ANYone keen to do it is often welcomed with open arms. And OBVI the BoD was asleep at the wheel if they were shocked about the resignations.
There was a coup of sorts several years back, and this guy got in. I am not a fan.