Some of you know that I care for a cat colony that was unknowingly present when we bought our house in a pretty 'transitional' urban neighborhood. Its been a big learning curve which involved TnRing 14 adults and getting 12 kittens / juveniles adopted over the course of the 1.5 years we have had the house.
The colony is pretty much in maintenance mode with the exception of 2 black cats who are so darn hard to trap, but I'm still working on them - I have a voucher for January for a feral fix, so I'm going to do my darndest to get one of them then.
Anyway, this colony is a mix of true ferals and dumped pets. All have varying degrees of friendliness/dependance on human intervention. One cat who is undoubtedly a dumped pet is Nicodemus.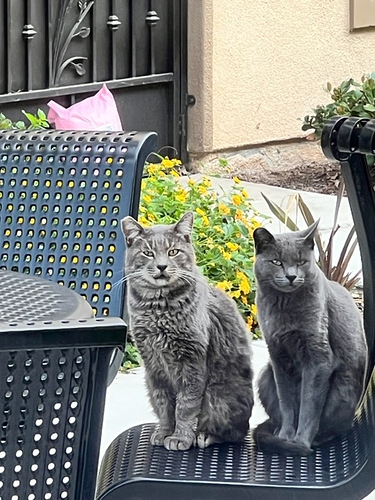 I named him after the owl from the Rats of NIMH due to his scraggly face fur and wise demeanor. Here he is w/ his bestie "Mouse"
Nic is one of the sweetest boys ever. However, his health has been deteriorating. I've had to take him to the vet twice - one for a bad URI and the other for what I feared was mange but fortunately was just BAD flea dermatitis. I can just pick him up and put him in my carrier. he never fusses or yeowls. He makes biscuits while waiting on my lap in the exam room. He's honestly better behaved than my spoiled indoor kitties at the vet.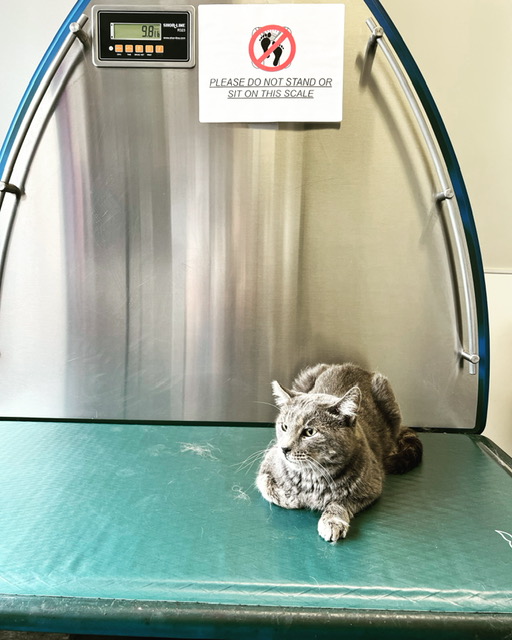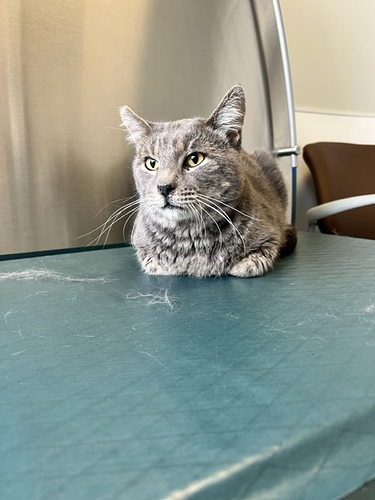 So I'm pretty invested in him (I know, I know, its foolish to get emotionally invested in a street cat). He and Mouse are our front stoop kitties and they have adopted our walkway as theirs. At the last vet visit, the vet said he's probably only 4 or 5, but has a pretty bad case of stomatitis, which is why he isnt grooming himself anymore. He drools,mouth smells and lip smacks alot. The vet said the only way to treat this super painful condition is to remove his teeth which is a minimum of $1,000.
I've been feeding him and mouse canned food AM and PM so he can eat something soft. Since he can't groom himself I do brush him, but his coat is in such poor condition that chunks fall out - so I put an animal heating pad, covered with a folded towel on our welcome mat each night to keep him and mouse more comfortable at overnight (no Mr. Batcoach does not know shhhhhh). I live in So Cal, so our nights are pretty mild.
He's starting to take longer to eat, and drool more. I don't know what to do. As much as I want to, I'm held to a 4 cat maximum in the house, so I can't make him my kitty. But it really sucks to look at him and know his mouth is in pain. I don't want to pay $$$$ for a surgery just to have him live on the street again. Do I watch him deteriorate until eating is too painful and I bring him in for euthanasia? Do I put him down now?
I'm not sure what the answer is. He loves getting pets and scritches and being brushed, so I'm pretty sure I could pill him if I needed to. Are there any treatments for Stomatitis? Or is tooth removal the only thing that works?