The long-awaited book of whine has arrived.
Behind The Bit: A Cautionary Tale About The Horse Industry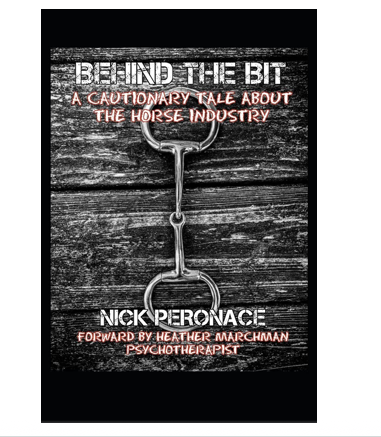 Anyone brave enough to actually buy it and read it? Then burn after reading! More scathing reviews are needed! Let's get it done, ladies!
Makes me wonder who the person who wrote the forward is, and if they know they wrote the forward to his book?
Dang,not available on Kindle. Anyone have a copy of his funky chicken video?
How can you ruin a person's credibility when he has none?
How do you ruin a reputation that is shady at best?
Why am I laughing so much at the fact the forward is written by a clinical psychotherapist, maybe she told him to write down his anger.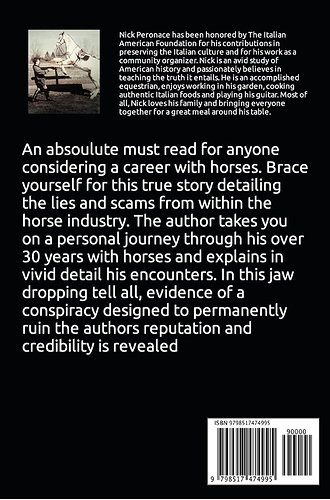 The person who wrote the "forward" to the book should let him try out one of her horses on a course. He did say he evented at a preliminary level in the past.
Well, if nothing else I can see by the blurb on the back that he has yet to employ an actual proofreader. So at least he's consistent.

I feel compelled to cough up the $20 and take one for the team. After all, I recently mentioned on the Off Topic forum that I was searching for humorous reading material.
Ooof isn't that just feeding the crazy? Sometimes ignoring the malicious cuckoo is the better path.
I was thinking of posting it on Amazon
The book has its first review, but it is mostly a review of the author.

But aren't you at least curious about the widespread, far flung conspiracy(!!!) that undermined his reputation and credibility? Rather than calling this cabal of evil equestrians the Deep State I'm going to label it the Deep Seat.

Yeah. It would probably be a pretty entertaining read. Or at the very least like slowing down for a car wreck

I would guess most people who find his posting history amusing would also find his book amusing. How can it not be amusing? His own little fantasy book.
You know, I was thinking the exact same thing.
ETA. Lets compare notes! @ThreeWishes, I feel compelled to actually read what NP is putting out to the world about the dressage industry, which is the discipline I ride in.
ETA again, I did it. I'll be happy to spread the love to other COTHers for just the cost of shipping when I'm finished with it. I'll donate the book to a "chain mail" of people who can read it and pass it on only for the cost of shipping.
I'd read it for the sheer entertainment value of his delusion, but I would never buy it, as I would not want him to make a single penny off me.
I do like how it is "independently published" - which I believe is code for he contracted it to be printed himself - though I could get it by Monday off of Amazon Prime.
I do find it interesting that so many of the physical books that amazon sells these days are print on demand books. Amazon stores no physical copies - they have their own print facility that has digital copies of a bunch of different books and print whatever is ordered on a one off basis.
Understood @J-Lu! You're a smart cookie. I trust your instincts. And await your thoughts.