ORAL ARGUMENTS SCHEDULED FOR 11/04/2022. (Update 10/28/2022)
Things are getting a little spicy as of late afternoon 10/12/2022.
10/19 Amended Answer and Counterclaim filed by Mr Deininger for Michael Barisone
Ok, it's not a ton of movement, but it is something. Or a few things.
First, Mr Schellhorn asked for the court to order him to release the forensics on RG, LK, and MB's phones to SGF, per their subpoena. If you recall, he did the same in reference to the 81 audio recordings.
Second, the Court made entries that they will be deciding the other outstanding motions on 10/21.
So, things are slowly moving along.
I'll add previous and future filings here as well.
https://portal.njcourts.gov/webcivilcj/CIVILCaseJacketWeb/pages/publicAccessDisclaimer.faces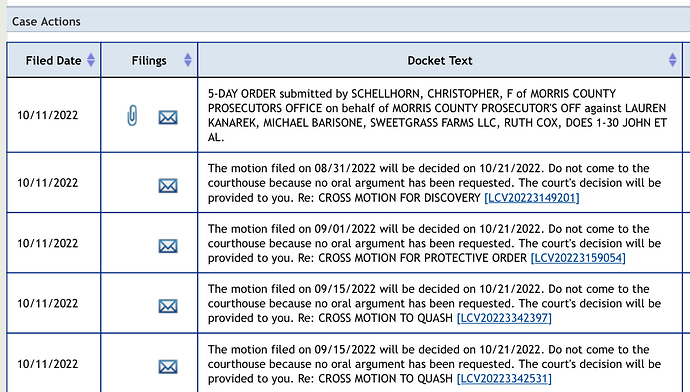 MB Motion Contempt KK.pdf (786.6 KB)
SGF Motion Contempt JK.pdf (750.1 KB)
SGF Motion Compel LK.pdf (698.9 KB)
Schell Req For Order to SGF's subpoena .pdf (278.6 KB)
MB letter re JK email.pdf (163.9 KB)
SGF letter re JK email .pdf (202.2 KB)
Nagel response to Schellhorn's letter.pdf (57.8 KB)
SGF RES Nagel Schell letter.pdf (467.6 KB)
MB Amended Answer and Counter.pdf (6.9 MB) filed 10/19/22
Original suit by LK:
LK Civil Suit.pdf (233.1 KB)
Original Answer/Counter by MB:
MB answer w Counter.pdf (379.2 KB)
LK response to amended counter.pdf (163.4 KB)
MB Res To LK Opp to Amend 103022.pdf (703.7 KB)
LK REQ Adjourn JK KK 10312022.pdf (28.0 KB)
MB Resp 103122.pdf (156.8 KB)
SGF Response 10312022.pdf (203.6 KB)
Req to Adjourn Denied 110122.pdf (51.9 KB)
MB Notice of exhibit 110322.pdf (1.2 MB)
5 day order Schell 110722.pdf (147.8 KB)