When the Lord closes a door, somewhere he opens a window (*)
While trying to recover from the loss of my beloved cat Dice last week (Goodbye Dice 💔) and not being able to sleep I started looking through some of the animal rescue websites, pondering whether I wanted another tuxedo. Nothing called to me. Then a cat appeared on the website of the local county shelter. A tuxedo cat named Tom, about 1.5 years old and looking a bit scared. When they called to reschedule the appointment I made online, the person noted that I had expressed interest in Tom and asked if I was an experienced cat owner. And did I have children in the house. Hmmm. She said he'd been transferred from another county shelter, was withdrawn and maybe acting out, and not very affectionate.
So I went to the shelter with an open mind. A very kind person took me in to look at the cats. I looked around and there was Tom. Still looking like his photo. She opened the cage and the three of us regarded each other. He didn't look mean. We talked to him and eventually reached in the cage and then eventually touched him. He seemed OK with that. We talked, I asked how he'd been to handle, she said she thought he was just scared, and that after talking with me she felt it would be a good match. A bit of a project perhaps.
Then I turned over my ID and waited. Ultimately they collected $5 from me (apparently there's a special on cats this month) and gave me his paperwork. He was surrendered to the first shelter about five weeks ago, neutered, chipped, and vaccinated and then transferred to the second shelter the day before I saw his picture.
Go him home and set up in the bathroom with food and water, an igloo bed, a litter box, and a few toys. Kept going in and visiting and talking to him and then touched him. Mostly he stayed crouched on the floor or barricaded in the igloo. By the time I went to bed he would purr when I touched him. Now, two days in, I can pick him up and hold him and he will sit in my lap and purr (so much for the not affectionate cat). He appears to be a fully functional cat–eating, drinking, using the litter box, bathing himself, and finally tonight meowing for the first time. Is that a normal thing not to meow when they're stressed?
As he's come out of his shell he's definitely more active and just plain busy, but in my experience that's pretty normal for a teenaged male cat. The only vaguely wrong thing he's done is what I'd call kitten biting but we're working on that.
I will work on getting better photos.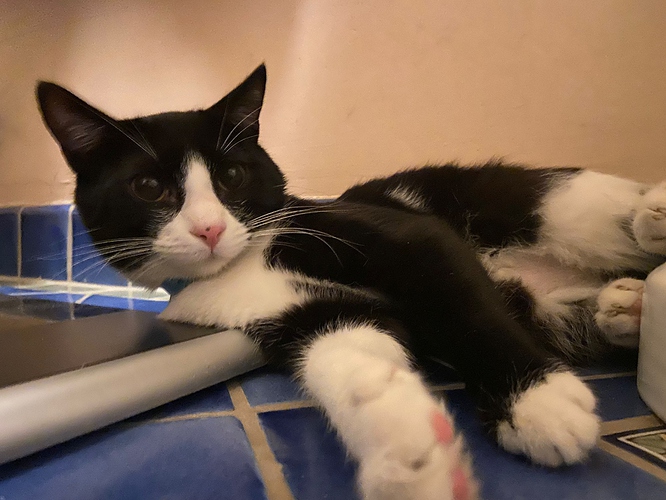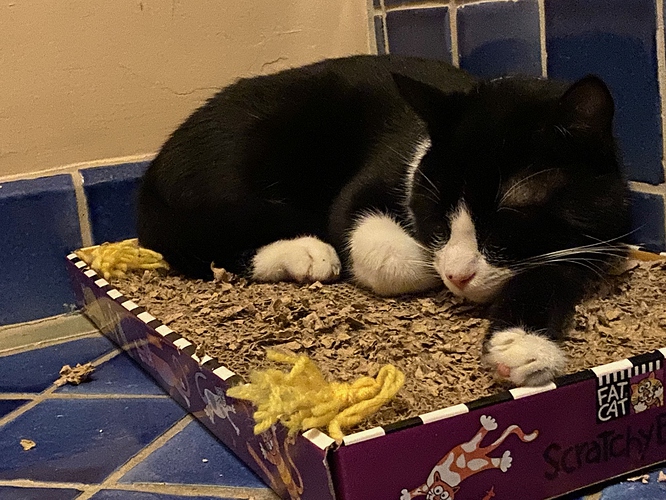 (*) Mother Superior, Sound of Music